Introduction
After writing a few weeks ago about the status of state legislative races across west Michigan, I went back to tinkering with some of the piles of data that I have collected from a number of sources. Since all politics is local (with a strong national undertow), I figured that it might be worth analyzing some precinct level data in Kent County. Before I go further, I should mentioned that I do not have GIS precinct level data for other counties in west Michigan, although a number of GIS folk (your's truly included) are starting work on creating such a file in hopes of being finished in the early summer.
Methodology
As in my earlier work, I have determined the Democratic (and Republican) baseline vote by averaging the statewide Board of Education races for each party, although this time I did so on the precinct level. For Map 1 (and the ones that follow), the baselines are from the 2006 election. While I realize that 2006 was a year of much higher Democratic turnout, the patterns of Democratic and Republican votes remain relatively similar to the past three elections. Likewise, it increasingly appears that 2008 will be a year with an extremely energized Democratic base with a large number Independents supporting the Democratic ticket. In contrast, Republicans appear tottering on every level of competition.
Analysis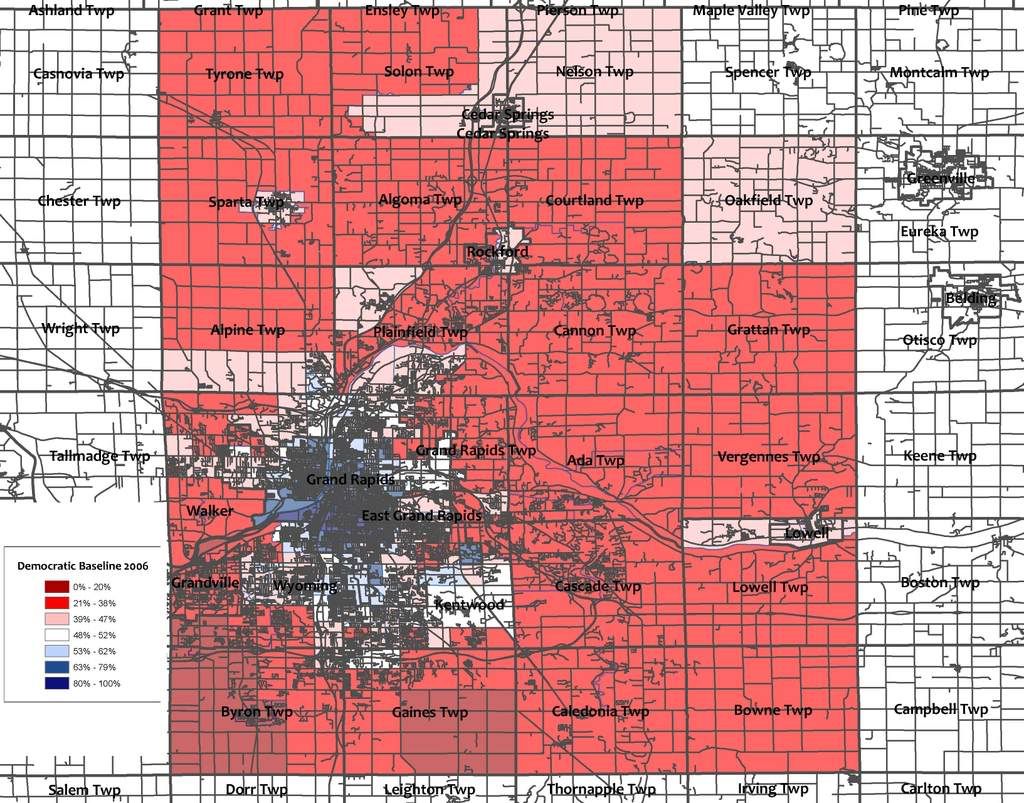 LINK
Above is a map of Kent County. As you may notice, this map has different shades of red and blue splotched across it, with a few patches of white. As you can see, there is a range of percentages across Kent County. Bryn and Gaines Townships, as well as Grandville, are shaded in deep Red, while the center of Grand Rapids is dark blue. Interestingly, some of the northern townships in Kent County (Nelson, Spencer, and Oakfield) are considerably less Republican than many of the other rural townships surrounding Metropolitan Grand Rapids. The exurban townships of Ada, Cascade, Plainfield, and Alpine are strong Republican areas, although much less so in southern Alpine and Plainfield Townships.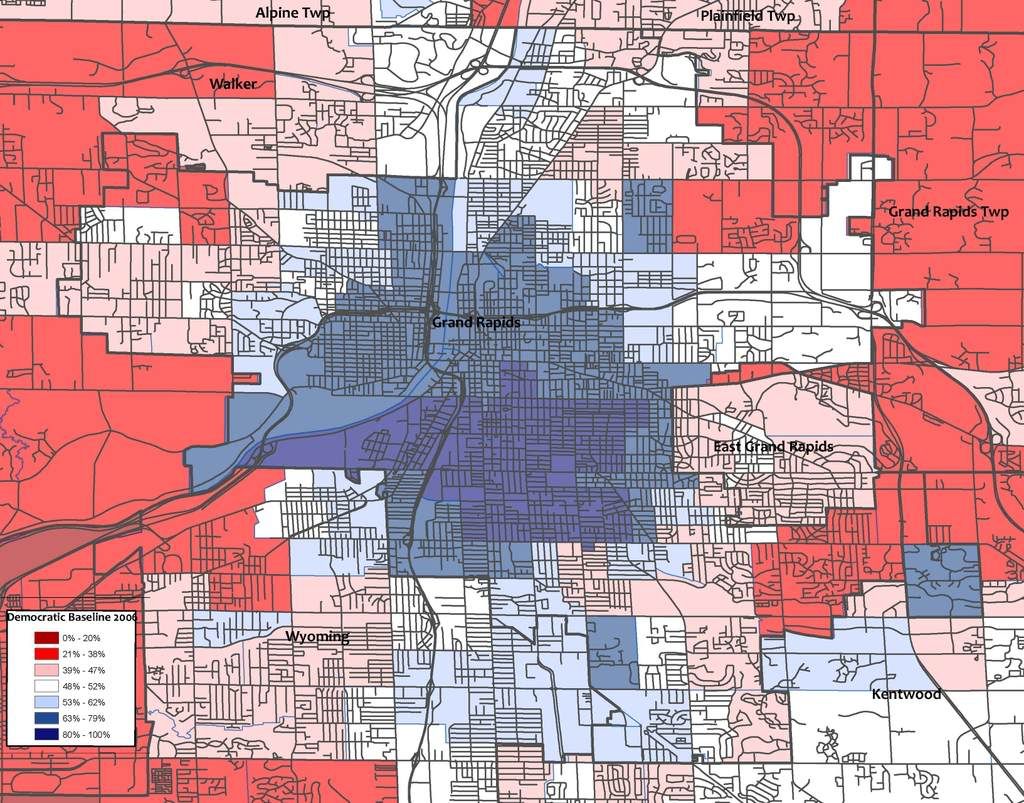 LINK
The Democratic baseline vote strongly correlates with Grand Rapids's long-term physical expansion. The pre-1891 core of Grand Rapids (enclosed by Bristol, Leonard, Fuller and Hall) is strongly Democratic, and provide the base of the county's Democratic efforts. The streetcar suburbs in Grand Rapids (areas of the city annexed between 1891 and 1927), are also increasingly becoming more Democratic, although sections of the Southeast Side (especially in Alger Heights) remain slightly Republican. The areas of Grand Rapids annexed between 1957 and 1961 remain the Republican base in Grand Rapids, with pockets on the west, northeast, and southeast sides of the city. It was from these bases that the GOP was able to hang on to the 14th and 18th County Commission seats for many years, and a large reason why it still controls the 19th district.
LINK
Metropolitan Grand Rapids (which I define as East Grand Rapids, Grand Rapids, Grand Rapids Township, Grandville, Kentwood, Walker, and Wyoming) clearly shows your typical election night map. I don't have the data, but I have heard (and read) that the Democratic Party was strong in Wyoming until the early 1980s when feuding within the party resulted in a disastrous election and redistricting on the county level. One can seek that there are portions of Wyoming where the Democratic vote is pretty strong, especially along the industrial (Division Ave) and commercial (28th Street) cores of the city. The same is true to a lesser extent in Kentwood. Much of southern and portions of eastern Kentwood has become increasingly less Republican over the past three elections. There exist strong sections of Republican support near Grand Rapids and Gaines Townships in the newer portions of Kentwood. This is also true in Wyoming, as precincts south of 44th Street are a GOP stronghold, especially in the panhandle region south of Grandville.
Grandville has long had a high Republican baseline vote which has not declined over the past decade. Likewise, Grand Rapids Township only has one precinct where the Democratic base vote exceeds 39%. Walker has sections that are strongly Republican, although the denser portions of the city near Alpine Avenue are less wielded to the Republican column. East Grand Rapids has trended increasingly Democratic over the last ten years, although the community has a weak GOP lean.
Conclusions
What does this data tell us? First, we've been good at turning out our base, but we need to do even better this cycle. One can assume that Obama's national efforts to register voters in central cities will have some impact on increasing turnout within central Grand Rapids. However, we really need to start pushing up turnout and registration among Hispanic voters on the southwest side of Grand Rapids and in northern Wyoming. Precincts in these areas have low turnout rates (even among registered voters), and the voter registration rates are also quite low.
Secondly, Democratic gains are possible in the suburbs. Portions of Wyoming and Kentwood are Democratic, and any effort to increase the Democratic vote percentage in these areas will help on the state level. Serious party building efforts in the 70 precincts in metropolitan Grand Rapids could help pave the road for future gains.
Finally, we need to work hard to develop the Democratic brand in exurban townships of Kent County. Townships such as Ada, Cascade, Gaines and Alpine have issues that require Democratic understanding and responses. Promoting smart growth development, as well as farmland preservation, could help foster long-term party growth in these regions.
The 2002 and 2006 29th District State Senate races help illustrate these rather abstract goals. In 2002 Democrat Steve Pestka ran a heated race against Republican Bill Hardiman. Hardiman gathered 44,000 votes to Pestka's 37,000, and polled 54% of the total vote. Hardiman ran behind the GOP baseline vote for the 29th District, although he pulled to victory with a strong performance in Kentwood. In 2006 Hardiman ran ahead of the GOP baseline vote, which was a mere 50.2% of the total vote. His victory was largely due to a large turnout in Kentwood, although he over performed in Grand Rapids as well. In 2002 and 2006 a large amount of the Republican victory was built in the exurban townships and Kentwood. The race for the seat in 2010 is likely to be among the top races in the state, and may impact which party controls the Michigan State Senate. Efforts to build our party in areas with limited Democratic presence over the next two years will help determine whether we turn west Michigan a darker shade of blue.