Brady raised an interesting question yesterday in response to my post listing State House races that I expect to be closely contested this fall given their basic political baselines and past voting history. Brady noted that the MDP often overlooks the candidates running for seats, and rather plow the money into races that they feel will be closed based on analysis similar to mine. Thus, many strong candidates get left in the dust, and our chances to increase our numbers declines.
That got me thinking about where the MDP sends its money for house races. I pulled up the Michigan Campaign Finance Network reports for 2002, 2004, and 2006 to see what races each party put their money. Before analyzing the data I suspected that both parties would protect incumbents first, and then spend money on flipping open seats. I suspected that independent expenditures (from both parties) would also follow this logic. Finally, candidates that raised little money on their own would not receive any financial support from the state parties.
I looked at the data from 2002, 2004, and 2006. I listed any race where there was an investment of over $15,000 from either party. I also note whether the seat was open or whether a party's incumbent was defending the seat.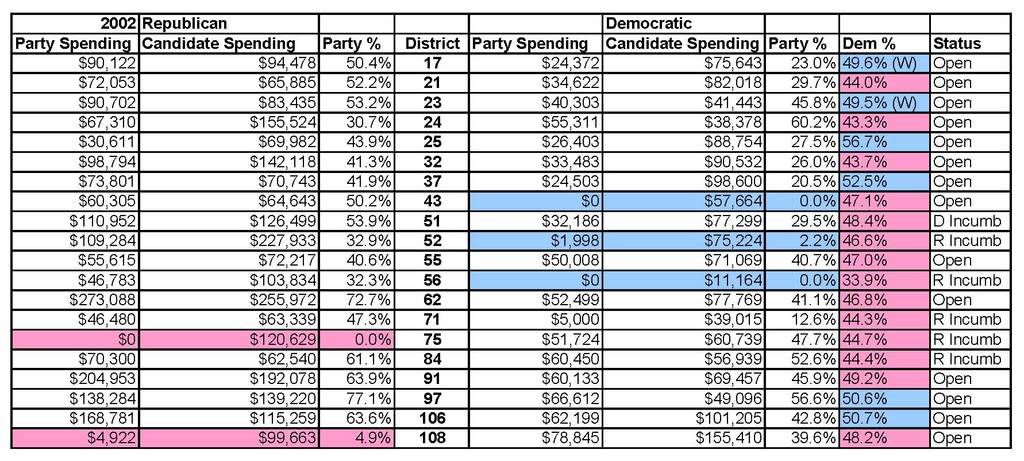 http://i303.photobucket.com/albums/nn153/pbratt/CampaignSpending2002.jpg
Figure 1: 2002 Races
Figure 1 shows the races that each party contested in 2002. The Republicans contested 18 seats, the Democrats 17. The Democrats contested 13 open seats and 3 Republican-held seats, while defending 1 seat. The GOP also contested 13 open seats and 1 Democratic-held seat, while defending 4 Republican seats. Of the 15 seats that each party actively contested, Democrats won 6, while the Republicans won 9.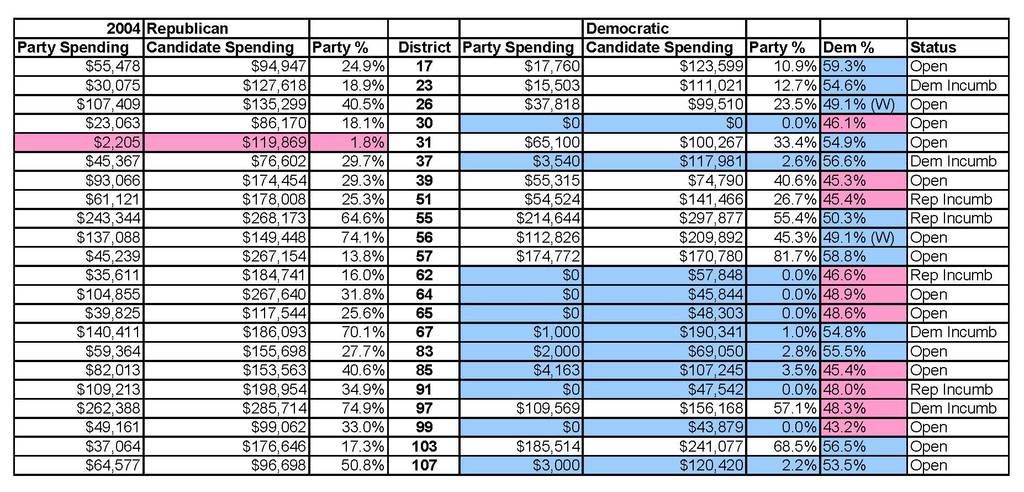 http://i303.photobucket.com/albums/nn153/pbratt/CampaignSpending2004.jpg
Figure 2: 2004 Races
As shown in Figure 2, the 2004 election cycle saw an increase in contested seats. The Republicans spent serious money on 21 seats, while the Democrats challenged in only 11 races. This difference may be a result of the large GOP money advantage for the state level races in this cycle. Regardless, the Democrats contested 7 open seats and 2 seats held by the GOP, while defending 2 Democratic seats. The GOP challenged 13 open seats and 4 Democratic seats, while defending 4 Republican seats. However, in the 10 races contested by each party, the Democrats won 7 seats. Of the 10 seats that the Democrats did not contest, the GOP won 7.
http://i303.photobucket.com/albums/nn153/pbratt/CampaignSpending2006.jpg
Figure 3: 2006 Races
Figure 3 shows the total number of contested races decline in 2006. However, the Democrats increased the number of challenges, spending heavily in 17 races, while the GOP contested only 13 seats. Of the 17 races that the Democrats spent money on, 5 were open seats and 7 were held by the GOP, while 5 seats were defended. The GOP challenged 4 open seats and 2 Democratic seats, while defending 7 GOP seats. Of the 12 seats that both parties challenged, the Democrats won 8.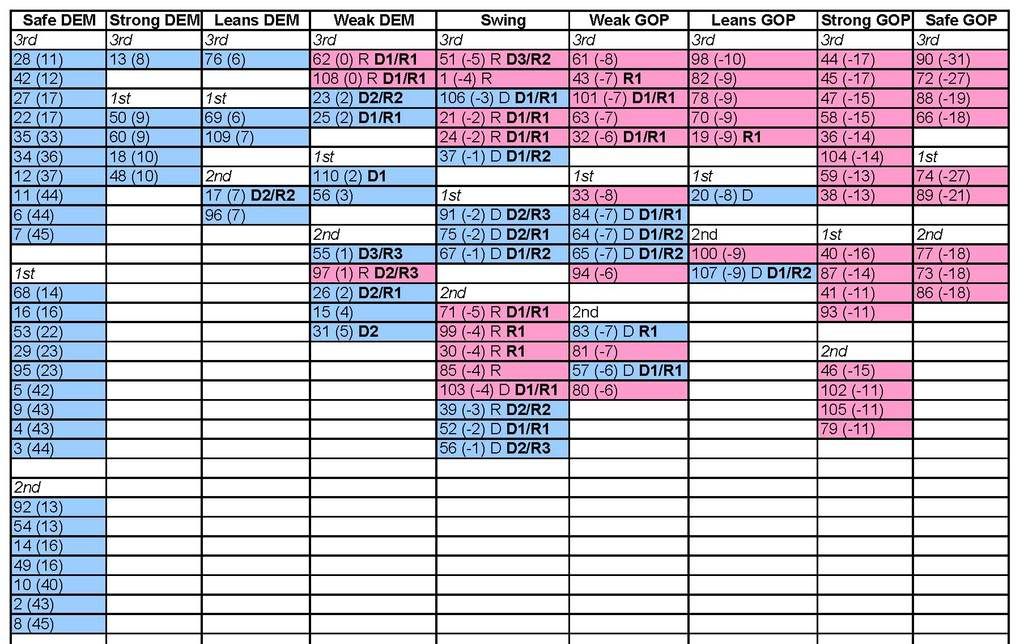 http://i303.photobucket.com/albums/nn153/pbratt/PartisanStatusTempUpdate.jpg.jpg
Figure 4: Updated Competitiveness Matrix
Figure 4 is a modified version of a chart in yesterday's post. I have added the number of times each party has challenged a seat. For example, in House District 51, the Democrats have invested in the seat 3 times, while the GOP has invested in it twice. It quickly becomes apparent that neither party ever spends money defending or challenging seats in their Safe or Strong category. Hence, that gives the Democrats 31 worry free seats, and the Republicans 25. For an upset occur in these areas means that the challenger needs to be self-financing, as the party will pay for nothing.
Hence both parties put their attention on the 54 Leaning, Weak, and Swing Seats. The Democrats have historically spent a great amount of money on defending seats, with the exception of the 2006 cycle. However, even in this past cycle the party ignored a number of seats that almost sent Democratic, such as the 61st (Kalamazoo County) and the 78th (southern Berrien County). Depending on the candidates, I would recommend that the MDP pursue the following funding priorities:
Invest heavily in the offense. Picking up GOP seats will be never be better as in this cycle, with the Michigan GOP in money woes, and the traditional GOP national financial advantages are gone as the Obama fundraising machine threatens to overwhelm the opposition. Don't spend money defending Weak Democratic seats that are not open, nor should much money be spent on 2nd term Swing seats held by our party. I highly doubt that the GOP will challenge the 57th and 83rd Districts that Democratic seats with Weak GOP baselines.
Focus instead on picking up GOP seats. The 62nd and 108th are prime pickup opportunities, as are Districts 1, 21, 24, and 51. These seats should receive priority in funding. Also, seek to pick up a number of Weak GOP seats, as Districts 32, 43, 61, and 101 are also tempting targets, with able candidates looking to run for these seats. Also consider scaring the GOP by putting some money in open GOP leaning Districts like 19, 70, and 78. Nothing beats scaring Saul into spending some additional money.
Defend on the outer edge. Depending on how the primary season shapes out, defend Districts 20, 64, 65, 84, and 107 stoutly. Swing Districts such as 37, 91, and 106 will also be hotly contested by the GOP, so be prepared to give a helping hand.
Let's get a discussion started!