(This a rather long post that I did for two websites in a series of articles-enjoy!PB)
(Cross Posted at Michigan Liberal)-PB
With the recent release of the post-primary filing reports for Michigan State House candidates, we can better understand the finances and status of races 45 days prior to November 5 (I have linked this table as a [http://spreadsheets.google.com/ccc?key=pV2G2PINOGEIeEgKm38yBMQ&hl=en Google document]). My prior analysis of Michigan State House races looked at the [http://www.michiganliberal.com/showDiary.do?diaryId=12563 history] and [http://www.michiganliberal.com/showDiary.do?diaryId=12764 current political landscape] within the 110 districts across the state. This report adds the latest financial data to better understand which districts are the ones to watch over the next two months, and where outside players (such as the Michigan Democratic and Republicans Parties and 527 groups) will attempt to add their weight to existing efforts.
Since August 5 the larger political landscape has changed. Michigan is considered to be a battleground state that John McCain's campaign is considering as ground zero for their campaign efforts. At the same time the Obama campaign is trying to perform its campaign mobilization magic in a state in which it did not have a primary that tested and fine-tuned its GOTV operations. While Obama may considered to be a slight favorite to win the presidential race, if McCain wins Michigan on November 5, there is little chance that Obama will be walking into the White House anytime soon.
With Michigan being a battleground state, both campaigns will be pouring money into the state to ensure that every voter is bothered by television ads and annoying robocalls. In addition, the Democratic Congressional Campaign Committee (DCCC) has targeted Republican Representatives Joe Knollenberg (MI-9) and Tim Walberg (MI-7). State House races located in these Congressional Districts will undoubtedly be treated to more political treats over the next 45 days.
Democratic are enjoying two major gifts this September. The first is the continued dominance of "Wacko-Jacko" Hoogendyk by Senator Carl Levin in the polls and financial strength. Expect Levin to match or surpass his vote percentage (60%) from 2006 against his hapless opponent. Levin's proven ability to bring Democratic voters to the polls will be especially be appreciated in metropolitan Detroit by Obama and MI-9 Democratic candidate Gary Peters. The resignation of Detroit mayor Kwame Kilpatrick also ends a sustained period of Democratic disarray in Detroit. While Kilpatrick's resignation brings an end to the distracting scandals, it remains to see how the Detroit Democratic machine will whip itself into shape in 45 days. I would be interested in hearing what Democrats on the ground in Wayne County can tell regarding Obama's efforts to ensure a massive Democratic tidal wave from the city.
Republicans enter the campaign buoyed by McCain's strong efforts in Michigan. The conservative base was mobilized by the selection of Sarah Palin as Vice Presidential candidate, although it remains to be seen whether she will attract independent voters to the GOP standard. The Republican Party is headed by a team of skilled political operatives who will attack the Democratic GOTV efforts with any trick necessary, whether it be gathering lists of foreclosed homes to illegally prevent former residents from voting or mailing wrongly addressed absentee ballot requests in hopes stalling Democrats efforts to bank early votes. That said, if the GOP loses Michigan for the fifth consecutive presidential election, you can be sure that Saul and Yob will be fighting each other just as hard on November 6. Heck, even Dennis Lennox might go after Justin Zatkoff as well. Thankfully for Democrats, Zatkoff will be leading regional field efforts in Washtenaw County. If he gets the GOP vote above 36%, I would be surprised.
The State House
We can be sure that as of November 6 there will be 37 Democrats and 19 Republicans in the State House. 37 Democrats and 19 Republicans were unchanged or had an opponent file a waiver promising not to raise over $1,000. Neither state party or outside groups will provide financial support for these candidates, who serve as sacrificial lambs. Of the 23 State House seats in Wayne County, Democrats currently hold 20 districts, and face credible challenges in only two races (Districts 17 and 20). 17 State House Democrats can instead focus on GOTV efforts in hopes of providing assistance in crucial nearby swing districts and increasing the Democratic vote margin in Wayne County.
The following Districts are held by Democrats facing no credible opposition:
Districts 2, 3, 4, 5, 6, 7, 8, 9, 10, 11, 12 (Detroit), 13, 14, 15, 16, 23 (southern Wayne County Suburbs & Downriver), 18 (Westland), 22 (Romulus & Taylor), 26, 27 (Royal Oak, Oak Park, Ferndale), 28 (Centerline), 29 (Pontiac), 34, 35 (Flint), 42 (Eastpointe & Roseville), 49, 50 (eastern Genesee County), 52, 53, 54, 55 (Washtenaw County), 60 (Kalamazoo), 68 (Lansing), 76 (western Grand Rapids), 92 (Muskegon), 95 (Saginaw), 96 (Bay County), and 107 (eastern UP).
The following Districts are held by Republicans facing no credible opposition:
Districts 33, 36 (Macomb County), 40 & 41 (Bloomfield Hills), 46 (northern Oakland County), 58 (Branch & Hillsdale Counties), 72, 77, 86 (Grand Rapids suburbs), 74 (eastern Ottawa County), 79 (western Berrien County), 80 (Van Buren County), 81 (St. Clair County), 87 (Barry & Ionia Counties), 88
(Allegan County), 89 & 90 (Ottawa County), 97 (mid Michigan), and 100 (northern western Michigan).
To retain their majority, the state Democrats need win an additional 20 seats, while the GOP needs to win 37 races to regain control of the chamber. The remaining races are listed in chronological order below to see if such a possibility is likely. Come and read Part II tomorrow at
Michigan Liberal.
http://i303.photobucket.com/albums/nn153/pbratt/HouseDistrictMapAA.jpg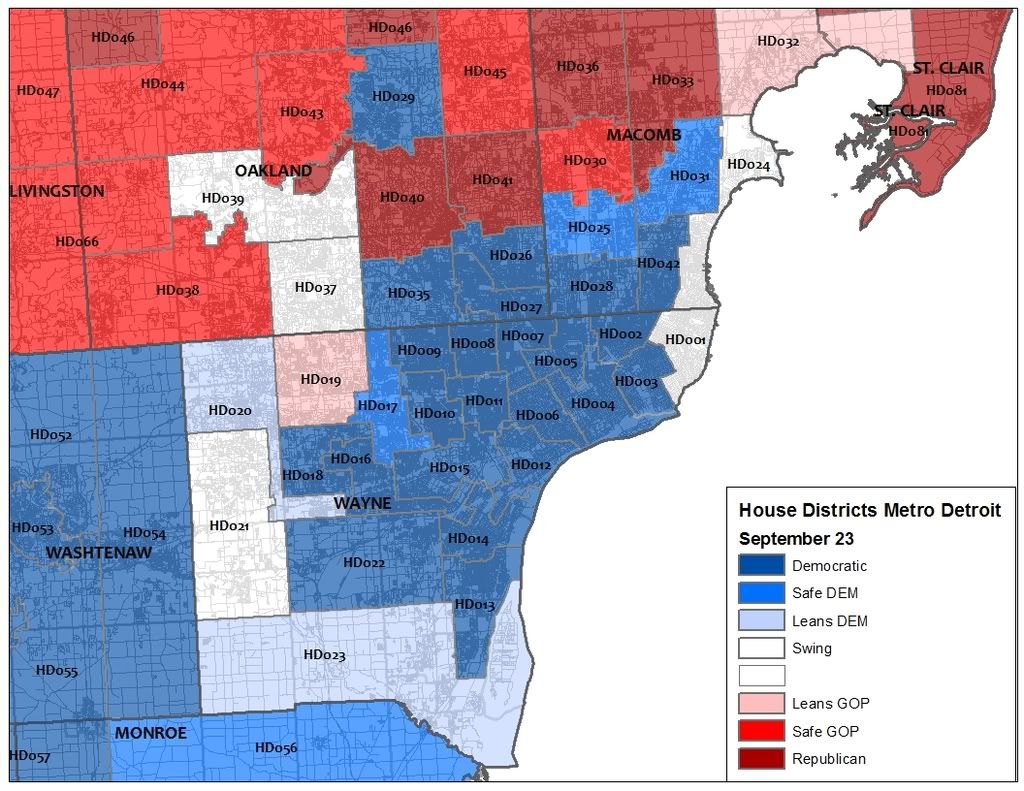 http://i303.photobucket.com/albums/nn153/pbratt/HouseDistrictMapMetroDetroit.jpg
http://i303.photobucket.com/albums/nn153/pbratt/HouseDistrictMapGenessee.jpg
District 1
(Grosse Points & part of Detroit)
A true battleground, with GOP candidate Mary Treder Lang holding a financial edge over Democrat Tim Bledsoe. Expect both parties to provide ample funding to each candidate, although the Dems might have to fork over more.
Forecast: SWING
District 17
(Redford Township)
Democratic Speaker Andy Dillon has survived a rough year. While the Pigman (Dorlet)'s recall remains in litigation, his Republican challenger Sandra Eggers has under $1000 in her campaign warchest. Dillion has $39,324, and is daring the GOP to throw money at his race.
Forecast: Safe DEM
District 19
(Livonia)
John Walsh has a large edge over Democrat Steve King, who reported a balance of $176. It remains to be seen if the state party is willing to support a candidate in a district with a Republican PVI of 8.5.
Forecast: Leans GOP
District 20
(Northville & Plymouth)
Democrat Marc Corriveau won a stunner here in 2006, and has a balance of $88,284 in his account. Republican candidate Jerry Vorva has raised $6,538 and faces a substantial gap in fundraising. The GOP might be tempted to pour in $100,000 to help regain this seat, but expect the Democrats to match.
Forecast: Leans DEM
District 21
(Canton & Van Buren Townships)
An open district with Republican Todd LaJoy seeking to hold his father's seat. LaJoy faces Democratic Dian Slavnes, who lags behind LaJoy's fundraising. Expect Slavnes to receive significant outside support.
Forecast: SWING
District 23
(southern Wayne County)
Democrat Deb Kennedy faces Republican Neil DeBlois in this open seat. Both candidates had primary challenges, and Kennedy currently has a financial edge. The Democratic base has been growing in this district, registering a PVI of +1.5.
Forecast: Leans DEM
District 24
(eastern Macomb County)
Republican Bryn Brandenburg seeks to hold his father's seat, while Sarah Roberts won a Democratic primary for the right to challenge. The candidates are at near financial parity, with Brandenburg has significant debts. Both parties will pour money into this race, so expect this swing district to be a center of attention.
Forecast: SWING
District 25
(Warrne)
This district used to be a political ground zero, but the Democrats have held onto this seat when Steve Bieda won the open seat in 2002. Democrat Jon Switalski faced no primary opposition and has $34,373 on hand. His opponent Michael Wiecek raised very little money, and has $44 in the bank. I can't understand while the GOP did not try harder to recruit a stronger candidate in this Dem PVI +1.8 district.
Forecast: Safe DEM
District 30
(Sterling Heights)
Republican incumbent Tory Rocca has $56,000 on hand, and faces Democrat Grant Hughes, who has raised little cash. Don't expect a close race.
Forecast: Safe REP
District 31
(Clinton Township & Mount Clemens)
Incumbent Democrat Fred Miller has a stockpile of cash, while opponent Daniel Tollis has over $102,458 in debt. Go figure.
Forecast: Safe DEM
District 32
(northern Macomb County)
An open seat, although with a weak GOP PVI of +5.7. Republican John Accavitti has $7,809 on hand after surviving a hard primary, while Democrat Jennifer Haase has $22,532. Expect the GOP to pour some money in this district to allow Accavitti to pull ahead. However, should the race be close in the last two weeks, expect the MDP to pour resources in here.
Forecast: Leans GOP
District 37
(Farmington Hills)
This swing district has been held by Democrat Aldo Vagnozzi over the past six years. Democrat Vicki Barnett and Republican Paul Welday have near financial parity, although Welday has out raised (and outspent) the Barnett. You can be certain that the Democrats will concentrate resources here, given that this district lies in the 9th Michigan Congressional District.
Forecast: SWING
District 38
(Lyon & Novi)
This open seat has GOP candidate Hugh Crawford seriously out raising Democrat Chuck Tindall. Expect Crawford to pull ahead here.
Forecast: Safe GOP
District 39
(Commerce and West Bloomfield Township)
The Democrats challenged Republican David Law every election since 2002. With Law term-limited, Democrat Lisa Brown will face off against Amy Peterman in a swing district that has a slight Democratic PVI of +2.7. Brown has an enormous financial edge over Peterman, with $53,044 versus Peterman's $4,793. Brown's financial strength gives this race a slight Democratic edge, but expect the GOP to push resources into this seat. For now this district is still a toss up, but a month might change things.
Forecast: SWING
District 43
(Oakland County)
While slowly becoming increasingly Democratic, this district remains a Republican stronghold. Gail Haines has close connections to current Republican Representative Fran Amos, and has $69,000 on hand. Democratic challenger Scott Hudson has raised smaller amount of funds, but will be unlikely to gain substantial support from the MDP.
Forecast: Safe GOP
District 44
(Oakland County)
This district is one of the strongest GOP seats in Oakland County. Eileen Kowall won a close primary against Dan Kelly, and is a traditional Republican in a strong GOP district. Kowall is also sitting on $33,000, while Democratic opponent Mark Venie about $720 on hand. No contest here.
Forecast: Safe GOP
District 45
(Oakland Township and Rochester Hills)
Another strong open GOP district. Republican Tom McMillin has about $11,000 on hand, while Democrat Randy Young has just over $1,213. Young might make things interesting, although the demographics are not on his side.
Forecast: Safe GOP
District 47
(western Livingston County)
Republican Joe Hune is vacating this seat due to term limits, and it looks to return another GOP representative come November. Republican Cindy Denby only has $3,843 on hand, but Democrat Scott Lucas has only $750.
Forecast: Safe GOP
District 48
(northwest Genesee County)
Democratic incumbent Richard Hammel is working in a conservative district that has a growing Democratic base. His opponent Ralph Burger has only $500 on hand, ensuring Hammel's reelection.
Forecast: Safe DEM
District 51
(southern Genesee County)
A swing district that featured two bitter primaries. Republican Paul Scott won a close three-way battle with 41% of the vote after spending $132,000 in the primary. Democrat Michael Thorp raised substantially less than Paul, and has $9,166 on hand. Whether Scott will be able to self-finance for the general election remains to be seen; with over $50,000 in debt, the GOP state party will likely come in to aid their candidate. Then again, so will the MDP. This will probably be among the top five most competitive races in the state.
Forecast: SWING
District 56
(Monroe County)
Democrat Kate Ebli seeks reelection after a hard fought race in 2006. Her Republican opponent Jean Marie Dahm has raised $217,495, although $216,175 (99.9%) is a loan that she gave her self. Elbi has $63,000 on hand, and will do fine against a candidate that has two donors besides herself.
Forecast: Safe DEM
District 59
(Cass & St. Joseph Counties)
A GOP stronghold, with Republican candidate Matt Lori expecting to do well against Democrat Carol Higgins. Higgins has proved to be a strong fundraiser, and has established a campaign in a part of the state that has had few viable Democratic campaigns.
Forecast: Safe GOP
These 22 seats rest in the diverse mix of Michigan's political geography. The GOP stronghold in northern Oakland County is match by the Democratic base in Genesee and Washtenaw Counties. To recap, there are five safe Democratic seats and two that lean Democratic. For the Republicans, there are seven safe seats, and two leaning GOP seats. The six swing seats will attract the attention of both parties.
Two of swing districts are in each Wayne and Oakland Counties, while one district is in Macomb and Genesee Counties. The bad news for the GOP is that five of these seats are currently held by their party, meaning that a loss of one or two could make dreams of a majority even smaller. Tomorrow we will cover Districts 61-110 in Part III of our series.
What follows below is an analysis of Districts 61 to 110. Discuss in the comments, and it would be great to hear some thoughts from folks on the ground.
Before I go further, let me encourage readers to head over to [http://www.westmichiganrising.com West Michigan Rising] to get a [http://www.westmichiganrising.com/showDiary.do;jsessionid=44FC9C594246860D673C30DBBC57F073?diaryId=802 great analysis] of the current state of house races in this part of the state. My analysis here is largely built on Phil's work, so it is better to see the original sources.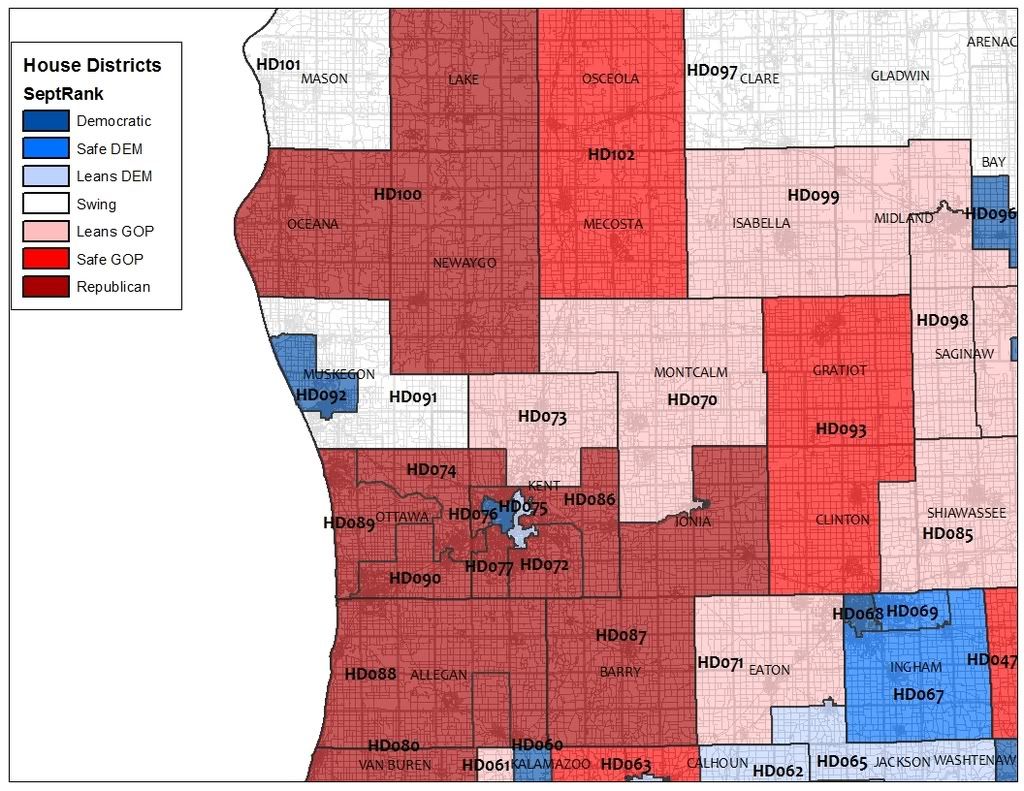 http://i303.photobucket.com/albums/nn153/pbratt/HouseDistrictMapWM.jpg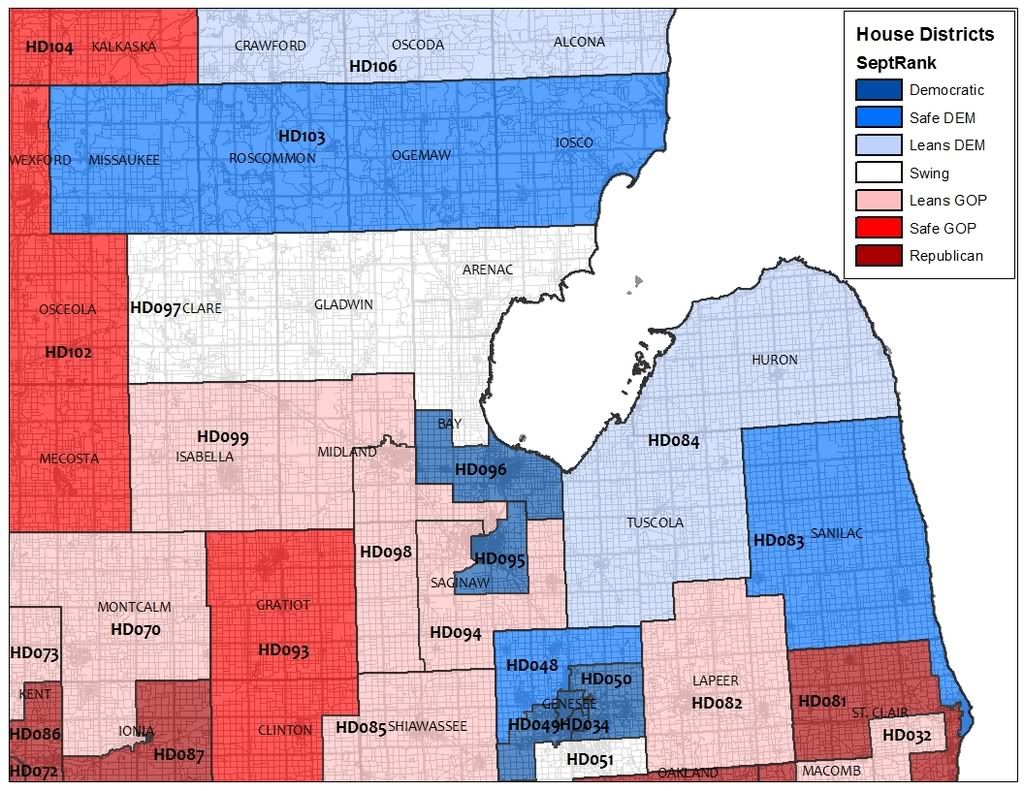 http://i303.photobucket.com/albums/nn153/pbratt/HouseDistrictMapThumb.jpg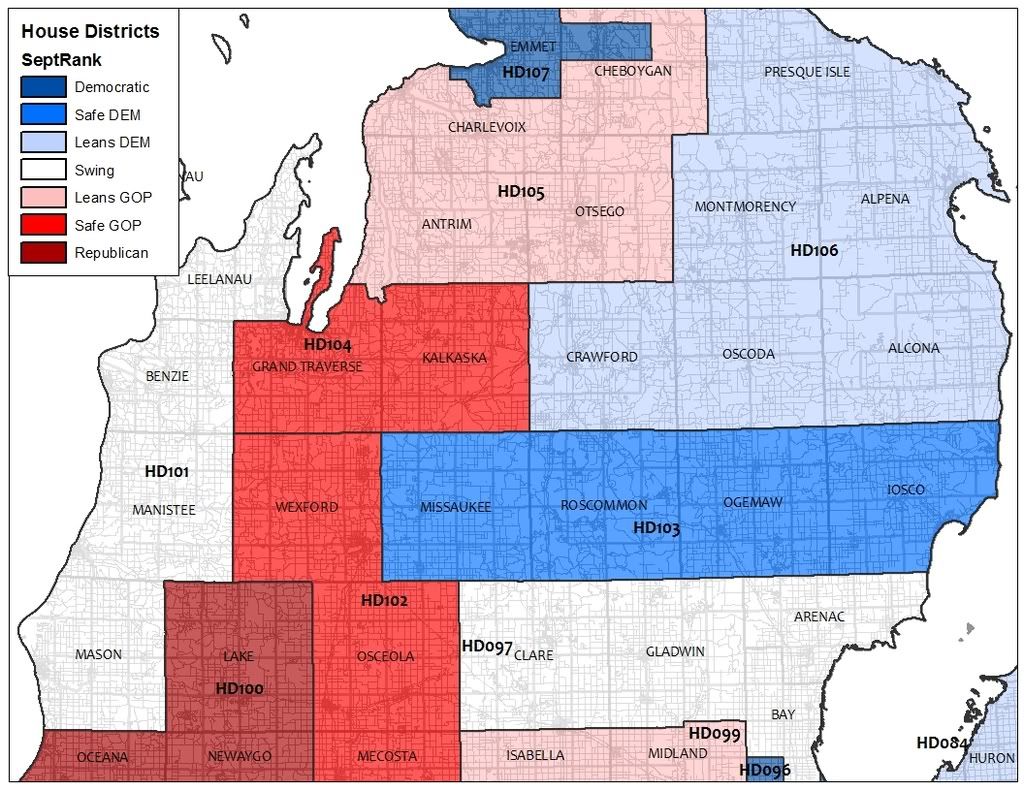 http://i303.photobucket.com/albums/nn153/pbratt/HouseDistrictMapNorthLP.jpg
http://i303.photobucket.com/albums/nn153/pbratt/HouseDistrictMapUP.jpg
District 61 (western Kalamazoo County)
The democratic baselines for this district have increased rapidly since 2002, and Democratic candidate Julie Rogers is seeking the seat after a narrow loss in 2006. She has $33,662 on hand, and had the luxury of an uncontested primary. Republican candidate Larry DeShazor went through a long and drawn out primary that was decided by 400 votes. The primary also depleted his coffers, leaving him with $1,349 on hand and $14,949 in debt. While DeShazor's moderate credentials will aid him in this GOP PVI +7.6 district, he'll need infusions of cash from the state party to catch up with Rogers. We'll see how the next month progresses; if the GOP throws a great deal of cash here, then the party is in trouble.
Forecast: SWING

District 62 (portions of Calhoun County, including Battle Creek)
This Democratic leaning district has been held by Republican Mike Nofs for the past six years. His departure has led to a heated primary contest for both parties, with Republican Greg Moore and Kate Segal winning the right to face off in November. While Segal has a slightly more cash on hand ($52,507), Moore also has almost $50,000 in debt. Also, the fact that the Democratic primary vote total outnumbered the Republican total by 10% is not likely to give the GOP comfort. Expect Saul to give generously here, but Stryker will also likely provide ample funding.
Forecast: Lean DEM
District 63 (Kalamazoo and Calhoun Counties)
This open GOP-leaning seat has Republican James Bolger well in the lead against Phyllis Smith. Smith has $8,182 on hand, while Bolger has $44,709 on hand. Expect Bolger to win this seat.
Forecast: Safe GOP

District 64 (western Jackson County)
This district has long attracted the resources of both parties over the past decade. In 2006 Democrat Martin Grifith bested Republican incumbent Rick Baxter, and currently has $51,000 on hand for his reelection efforts. Surprisingly, the GOP failed to attract a strong candidate for this district, drafting third-tier candidate Leland Prebble, who has $2,000 on hand and $4,000 in debt. The GOP will wait until 2010 to serious challenge this seat.
Forecast: Lean DEM
District 65 (eastern Jackson County)
Another swing Jackson County seat that saw a Democratic upset in 2006. Mike Simpson easily brushed aside two minor Democratic challengers, and has $114,632 on hand for the general election. Republican Ray Snell has proven to be a poor fundraiser, with only $6,513 on hand. It was expected that the GOP would put money in this seat, but one can hardly expect the party to put over $100,000 into this race without better fundraising from Snell.
Forecast: Lean DEM
District 66 (Livingston County)
A safe Republican seat features Bill Rogers against Donna Anderson. Anderson has $1,000 on hand, while Rogers has $15,230. Don't expect a close race here.
Forecast: Safe GOP
District 67 (Ingham County)
A swing district that has long been held by the Democratic Byrum family, and is current represented by Barb Byrum. Republican Mike Herter has sought to make a race for this seat, and has $13,829 on hand. Byrum has almost $50,000 on hand, and it is unlikely that the GOP will challenge this seat until 2012 when Byrum is term limited.
Forecast: Safe DEM
District 69 (East Lansing, Meridian, & Williamstown Townships)
This leaning Democratic district is represented by Democrat Mark Meadows, who easily won this seat in 2006 with 67% of the vote. Meadows has $26,774 on hand, while Republican challenger Frank Lambert has $667 in the bank. Go figure
Forecast: Safe DEM
District 70 (Montcalm & Ionia Counties)
This district has a GOP lean (PVI +8.7), but that hasn't kept the GOP from worrying about this seat. Republican Thomas Ginster won a very bitter primary that also drained his bank book, leaving him with $3,797 in the bank. Democrat Mike Huckleberry has proven campaign experience (having run for Congress in 2004 and 2006), and has polled will in GOP internal polls. However, Huckleberry does not have much money either, with only $1,445 on hand, reducing the possibility of the MDP of participating in this race. Stay tuned to see what both state parties do for this seat.
Forecast: Lean GOP
District 71 (Eaton County)
This swing district has become increasingly Democratic over the past six years. Republican Rick Jones has about $9,221 in the bank, while Democrat Mark Eagle has $1,517 in his coffers. The Democratic Party recently took a majority of the Eaton County Commission seats, and signs point to a serious challenge in 2010. I would not be surprised if the MDP threw some money in this race to bleed the GOP dry and to bolster their chances two years later.
Forecast: Lean GOP
District 73 (northern Kent County)
This is perhaps the sleeper race of 2008. Two-term Republican Tom Pearce has coasted to victory, and is used to easy races, and only has $7,207 on hand. His constant advocacy of social issues has left economic conservatives restless and open to a new Democratic message. Enter Democrat Bruce Hawley, who has run a serious campaign on economic development and reform. Hawley has $24,816 on hand, and will run a hard campaign against Pearce. While the underlying demographics of this district favor the GOP, there is a possibility that Hawley could surprise here.
Forecast: Lean GOP
District 75 (eastern Grand Rapids)
This seat featured a nasty campaign in 2006, with Saul Anzius personally approving race-baiting flyers against Democrat Robert Dean. The ads backfired, and Dean ended up shocking Republican Tim Doyle, who out raised Dean by a 2-1 margin, by winning 51% of the vote. Many expected the GOP to strongly contest this seat in 2008, but this hasn't appeared to happen yet. First, A Republican primary did not bring the result hoped for by GOP leaders. Rather than T.J. Carnegie facing off against Dean, Dan Tietema, who has failed as the GOP standard bearer on a number of occasions, received the GOP nod. Tietema's fundraising was minimal, leaving him with $7,000 on hand against Dean's $28,700. Secondly, Democratic turnout in this district is much greater in presidential election years, ensuring that Dean will get a large base turnout that will likely put this race in his came. Finally, the MDP has made it clear that they are willing to spend big bucks to keep this seat. Will see if Saul brings cash this time along with the flyers.
Forecast: Lean DEM

District 78 (portions of Berrien and Cass Counties)
While traditionally a strong GOP district (PVI +8.7), Democrat Judy Truesdell ran a close race against Republican Neal Nitz in 2006, gaining 48% of the vote. With Nitz term-limited, Truesdell is running again, and has $29,156 in the bank. In contrast, her Republican opponent Sharon Tyler survived a close primary, and has no money in the bank, and has $46,000 in debt. The GOP state party will need to provide some serious money for this race to ensure that Tyler will be able to pull out a victory. Given the financial disparity here, along with the continued GOP bitterness, this race is too close to call.
Forecast: Swing
District 82 (Lapeer County)
This GOP leaning district covers the heart of the thumb, and has long been held by Republican Representatives. Republican Kevin Daley won the GOP nomination, and has $3,791 after the race. Democratic candidate Bill Marquardt has $4,498 on hand, meaning that there is a rough fiscal parity at the moment. However, expect Daley to pick up his fundraising efforts over the next few months to win this Republican friendly area.
Forecast: Leans GOP
District 83 (Sanilac and St. Clair Counties)
While this district has a weak GOP lean (PVI +7.8), Democrat John Espinoza has not had trouble this seat. Republican candidate Steve Kearns has raised a great deal of funds (from himself), and this is a seat that the GOP might be tempted to throw some money at. However, expect Espinoza to win this seat.
Forecast: Safe DEM
District 84 (Huron and Tuscola Counties)
Terry Brown won this Republican leaning seat in 2006, and is seeking reelection for a second term. He is facing Anna Kabot, who is a retired advertising agent. Brown has substantial funds on hand ($42,878 vs. Kabot's $4,153), and this will likely dissuade the GOP from spending serious funds here.
Forecast: Leans DEM
District 85 (Shiawassee County)
This district has long been a swing seat, with Representative Richard Ball holding on by small margins in 2004 and 2006. While being outspent, Democratic Judy Ball is a possible contender for MDP funds if the party is serious about expanding its majority on November 5.
Forecast: Leans GOP
District 91 (eastern Muskegon County)
This seat has been a battle ground since it was created by the GOP in the last round of redistricting. Republican David Farhat struggled to win in 2002 and 2004, but got destroyed by current Democratic Representative Mary Valentine in 2006. Valentine's campaign was extremely effective at GOTV efforts, which helped find democratic votes in areas of the district that historical been strong Republican centers (such as Norton Shores). Valentine has raised a substantial amount of funds for her reelection-and currently has just under $100,000 in the bank. The Michigan Democratic Party will certainly pour money into this seat to help hold back Republican Holly Hughes's challenge to Valentine. Hughes, a buddy of Chuck Yob on the RNC was drafted for this race since she had deep pockets and might be able to swing the northern portion of the district (Whitehall and Montague) into the GOP column. While her fundraising efforts have resulted in a cash on hand balance of $48,021, Hughes has no campaign experience, which will be a hindrance in tightly contested race. Hughes is also co-chair of the McCain campaign, which might reduce her focus somewhat. This race is currently too close to call, but Valentine is a tough campaigner.
Forecast: Swing
District 93 (Clinton and Gratiot Counties)
Republican Paul Opsommer won election in 2006 to this strong GOP district, and is in a good position to return to the state house. While he currently has a financial edge over Democrat Ron McComb, this Mike Huckabee base will make it difficult for any Democrat to do well here.
Forecast Safe GOP
District 94 (portion of Saginaw County)
This district is a competitive seat currently held by Republican Ken Horn. Democrat Bob Blain is seeing to improve on his 2006 defeat to Horn, but remains behind Horn in terms of fundraising. This will likely be a GOP hold.
Forecast: Leans GOP
District 97 (portions of Arenac, Bay Clare, and Gladwin Counties)
This is a perhaps the biggest sleeper race to watch. In yesterday's post readers were telling me about Democratic candidate Kathy Wilton, who has launched a formidable challenge to Republican Tim Moore. The demographics of this district favor the Democrats (PVI +1.3), and a serious effort by Wilton and support from the state party could make this race a serious battle that the GOP can ill afford to lose.
Forecast: Swing
District 98 (Midland and Saginaw Counties)
This open district has a Republican lean, but this has not stopped Democrat Garnet Lewis from out fund raising Republican Jim Stamas. It remains to be seen if Lewis is able to translate a significant financial edge into an electoral victory, or whether either state party will push money into this seat.
Forecast: Leans GOP
District 99 (Isabella and Midland Counties)
Republican Bill Caul currently holds this seat, and is challenged by Democrat Nancy White, who ran a close senate campaign in 2006. While Caul has a financial edge here, White's grassroots success should not rule a close race out, especially if the state Democrats want to put this seat in play.
Forecast: Leans GOP
District 101 (Benzie, Leelanau, Manistee, and Mason Counties)
This was a surprise race in 2006, and it will be under the spotlight this time around. Democrat Dan Scripps (a proud fellow UM alumni) ran a close race against Republican David Palsrok, taking 48% of the vote. With Palsrok term-limited, Scripps has worked hard for the past two years getting his name around the district, building strong grassroots efforts that will be ready to increase Democratic campaign efforts. Scripps is facing Republican Ray Franz, who survived a bruising GOP primary that was decided by a small number of votes. This primary depleted Franz's coffers, giving Scripps a significant financial edge for the fall. Head over to West Michigan Rising for some great analysis of the race, and a fuller picture of the situation on the ground. I am rating this as a swing race, but I defer my judgment to those up north.
Forecast: Swing
District 102 (Mecosta, Osceola, and Wexford Counties)
This district is a solid GOP seat held by Republican Darwin Booher. Democrat Nate Heffron has raised a small amount of funds, making this a long-shot.
Forecast: Safe GOP
District 103 (Iosco, Missaukee, Ogemaw, and Roscommon Counties)
While Democrat Joel Sheltrown has won handily in this district, but the underlying demographics of this seat could make a GOP pickup a possibility. Sheltrown's careful work has kept Republicans from seriously challenging this seat, and 2008 will be no different. Dave Ryan has $270 on hand, and it is unlikely that the state party will send any more his way.
Forecast: Safe DEM

District 104 (Grand Traverse and Kalkaska Counties)
This Republican district is largely concentrated in Grand Traverse County, were the Democrats have made some inroads in the past few elections. However, Republican Wayne Schmidt has a significant financial edge over Democrat Roman Grucz. This should remain a GOP seat.
Forecast: Safe GOP
District 105 (Antrim, Charlevoix, Cheboygan, and Otsego Counties)
This district (desired by Dennis Lennox once Republican Kevin Elsenheimer is term-limited) is a Republican base seat. However, Democrat Connie Saltonstall has run a strong campaign, raising significant funds and shows no sign of giving up here. While this seat should remain Republican in November, we can't be too sure.
Forecast: Leans GOP
District 106 (Alcona, Alpena, Crawford, Montmorency, Oscoda, and Presque Isle Counties)
A swing seat that the Democrats have held with ease over the past six years under Matthew Gillard. This is due to a strong Democratic base in Alpena, where Democratic candidate Andy Neumann is from. Neumann is a former State House Representative, and seeks to return to the house against Republican Peter Pettalia. Both candidates have raised significant funds, and expect each state party to put some cash here. While this is a swing district, insiders from both parties say that Neumann has an edge here.
Forecast: Leans DEM

District 108 (Delta, Dickinson, and Menominee Counties)
This seat has a Democratic lean, but was represented by Republican Tom Casperson since 2002 when he beat Democrat Laurie Stupak in a close race. Since Casperson leaving to lose to Laurie's husband in the 1st Congressional District, Democrat Judy Nerat is looking to gain this seat and improve on her 2006 numbers. Republican Mike Falcon is hoping to retain this seat, and has a slight financial edge over Nerat. Expect the Michigan Democrats to put a great deal of cash into this race to bring it back to the Democratic column. This one will go all the way to November 5
Forecast: Swing
District 109 (Alger, Luce, Schoolcraft, and Marquette Counties)
This has long been the most Democratic seat in the UP, and Democratic Steve Lindberg won handily in 2006, gaining 67% of the vote. Lindberg has a significant edge over Republican Dorren Takalo, who is not attracting much state party support. Don't expect a GOP victory here.
Forecast: Safe DEM
District 110 (Baraga, Gogebic, Houghton, Iron, Keweenaw, and Ontonagon Counties)
Democrat Mike Lahti won handily in 2006, and has massive financial resources compared to Republican John Larson. Another safe Democratic seat.
Forecast: Safe DEM
Part IV: Analysis
From the forecasting done in the earlier posts, it appears that the Democrats have a significant edge heading into October. There are 38 seats that Democrats are guaranteed to hold come November 5, 11 that appear safe, and 8 that lean Democratic for a grand total of 57 seats. The Republicans have 18 guaranteed seats, 12 safe seats, and 11 that lean GOP for a total of 43 seats. 12 seats are pure tossups, and it would not be surprising for a split, giving the Democrats a possibility of holding over 60 seats on the evening of November 5. This would be a crushing blow to GOP efforts to retake the legislative agenda in the lead up to the 2010 election.
We have 42 days to out work the other side to ensure that we keep our majority in the Michigan State House!