Most of my previous pieces on this website have focused on identifying the underlying partisan affiliation of voters through examining the "baseline" Democratic or Republican vote. As Mark Gerbner defines it, the baseline vote is the average Democratic share of the vote cast for major parties for the statewide education board races which occur every election cycle. Someday I'm going to do a paper on changes in the baseline vote from 1964 to the present, but that is for the "off-season" (ie-sometime in winter of 2009).
Yet the baseline vote measure is not always a fit-all measure. It does little to show how voters are more likely to vote for big state or federal races, and the impact that various candidates have had on turnout. Likewise, the baseline vote does little to show were swing voters reside, an important consideration for campaigns looking to maximize their resources. Finally, the baseline vote does not take into consideration turnout for various races.
In between job-hunting shifts and leading canvassing efforts for Obama in Lower Merion Township, I have been trying to determine a good measure to identify persuadable voters in Kent County. I used the 2006 election returns for attempt, since I feel that the 2008 election cycle is shaping up to be much like the previous one, and because there are a range of candidates will attract or lose support at the ballot box.
In 2006 there were a number of races in Kent County that brought voters to the ballot box. These included the gubernatorial contest between DeVos and Granholm, the Senate race between Stabenow and Bouchard, the 2nd and 3rd Congressional races, State Senate and State House seats, and County Commission races.

http://i303.photobucket.com/albums/nn153/pbratt/KENTMASTERTOTALS.jpg
Table 1 shows the range of vote totals and shares for the Republican and Democratic candidates in Kent County. The highest Democratic vote total went for Governor Granholm (109,940 votes and 46% of the total), while Republican vote high came for the US House races (150,697 votes and 65% of the total. The other race totals and vote shares fall within the two previously mentioned races.
Looking at the highest and lowest vote totals we see that there are at least 29,549 vote splitters. Of these 29,549 voters, 7,323 chose not to vote, leaving 22,226 voters or about 10% of the total vote. Where do these voters live in Kent County?
The maps below show the percentage of the swing vote between the gubernatorial and congressional race in each precinct of Kent County. The maps show an interesting picture.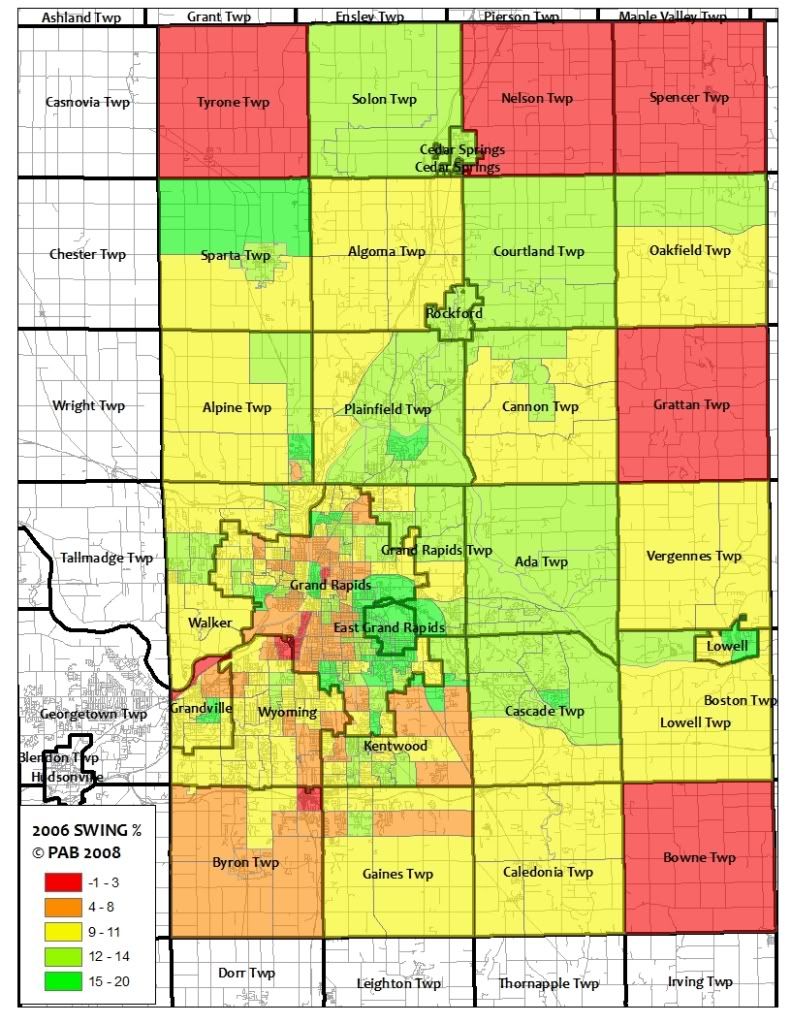 http://i303.photobucket.com/albums/nn153/pbratt/KentPrecinctLarge.jpg
Map 1 shows the swing variation throughout Kent County. There appears to be a great deal of variability in East Grand Rapids, and some of the other eastern suburbs of Grand Rapids. For fun I have displayed the same data in Map 1 with House District and County Commission boundaries as well in Map 2 and 3. House Districts 75 and 73 appear to have a great deal of variable precincts.
http://i303.photobucket.com/albums/nn153/pbratt/KentPrecinctHD.jpg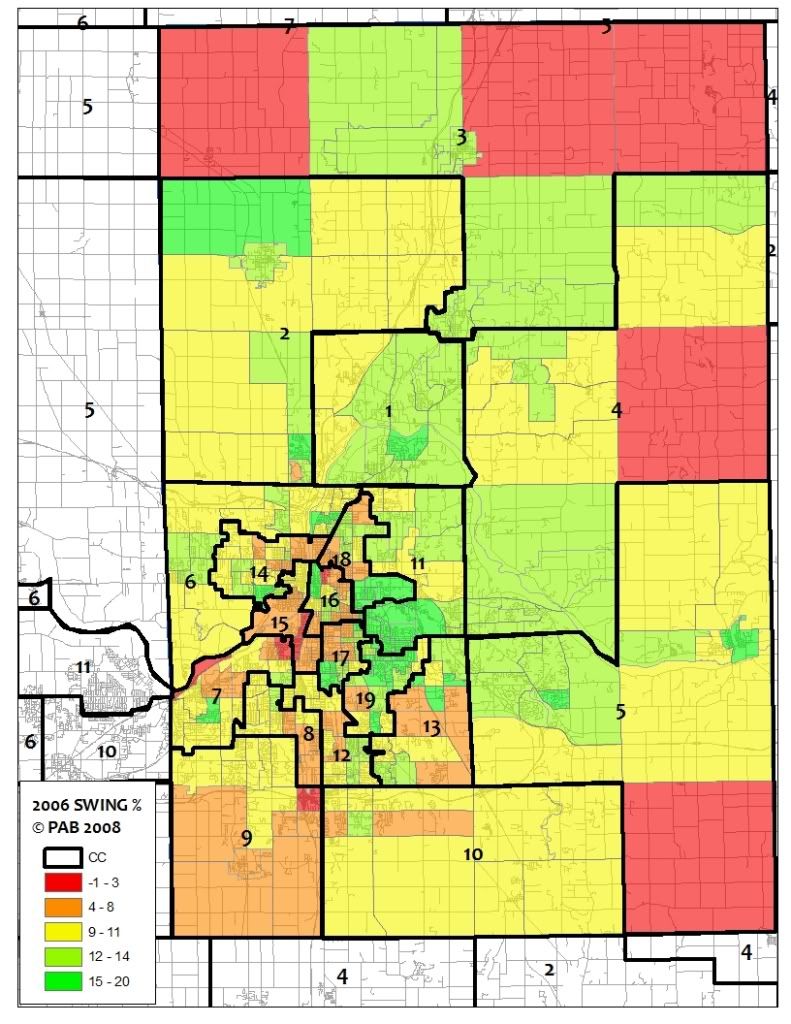 http://i303.photobucket.com/albums/nn153/pbratt/KentPrecinctCC.jpg
Looking closer at metropolitan Grand Rapids makes these trends more apparent. The Democratic base in Grand Rapids (especially in House District 76, and County Commission Districts 15 and 16) have a much smaller swing vote percentage than the suburban neighborhoods of Grand Rapids (CC Districts 18 and 19), as well as in EGR, Walker, and Grand Rapids Township. There also appears to be smaller variability in Grandville, Kentwood, and Wyoming.
http://i303.photobucket.com/albums/nn153/pbratt/KentPrecinctMetro.jpg
http://i303.photobucket.com/albums/nn153/pbratt/KentPrecinctHDMetro.jpg
http://i303.photobucket.com/albums/nn153/pbratt/KentPrecinctCCMetro.jpg
Some of this variability notes the baseline partisan strength of each party. There is little difference in the Democratic vote in Grand Rapids, just as there is reduced variation of the Republican base in Byron and Gaines Township, as well as in Grandville.
In the end, what does these figures mean for the 2008 election? First, a smart Democratic campaign (and I am sure that the Obama Campaign is doing this) will be spending a great amount of time targeting persuadable voters in the eastern suburbs of Grand Rapids. With enough work they can convince voters to give the Democratic message of economic change and reform a chance over the GOP slogan of status quo. Secondly, the long-term Democratic goal should be to encourage lower-level races (State Senate, State House, County Commission) to run hard after the swing voters, who seem to appreciate campaigns that actually run hard after their votes as opposed to campaigns that do little work.