From the (reduced) Jackson Patriot:
Less than a month after he won re-election to the state House, Rep. Martin Griffin announced he plans to seek a seat in the state Senate.

Griffin, D-Jackson, said he filed paperwork Monday with the secretary of state's office to create a candidate committee for the 19th District state Senate seat that will open when U.S. Rep.-elect Mark Schauer heads for Washington, D.C.

"I think I am uniquely qualified in the fact that ... I've had experience at all levels of government and I think I am very well-suited to step into that position," said Griffin, D-Jackson.

Griffin, 46, first won the 64th District seat in the state House in 2006 and previously spent about a decade as mayor of Jackson.
More of the story can be found here:
http://www.mlive.com/citpat/news/index.ssf/2008/11/griffin_to_seek_seat_in_state.html
As ML reported earlier, term-limited Republican Mike Nofs (District 62) is also planning on running for the seat. Each candidate represents a sizable portion of Democrat Mark Schauer's State Senate seat, as shown by the map below the fold: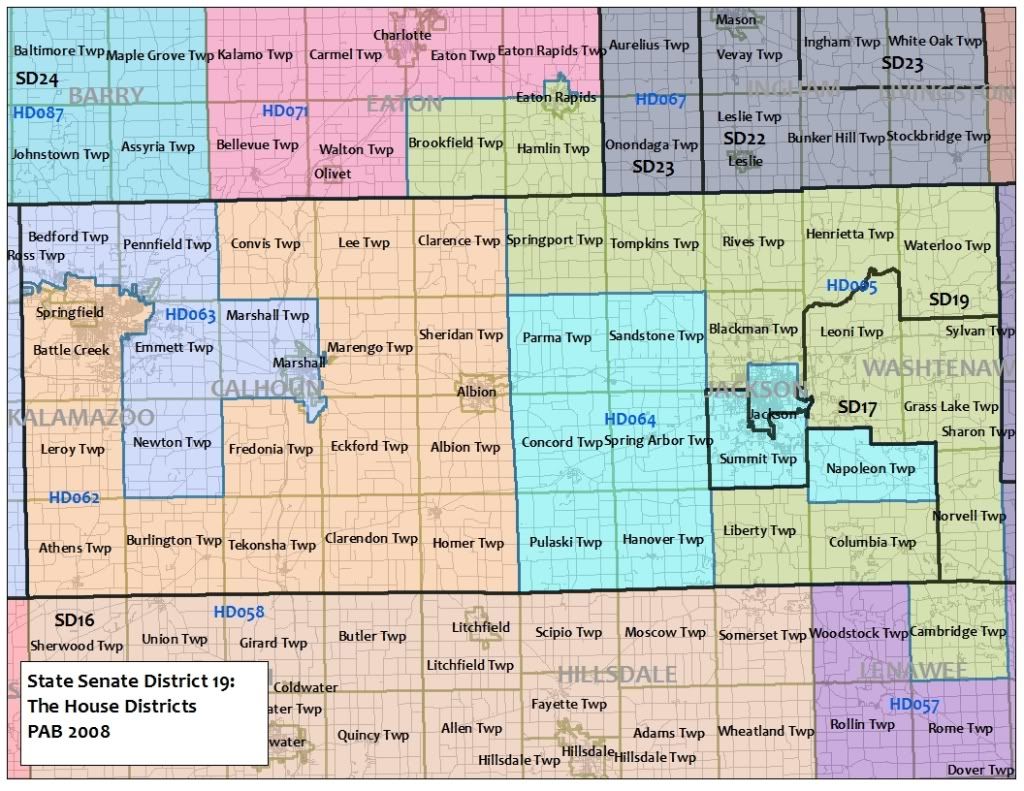 http://i303.photobucket.com/albums/nn153/pbratt/StateSenate19112508.jpg
Mike Nofs represents District 62, while Griffin represents District 64. Just from glancing over at my excel spreadsheets, each house district covers about the same percentage of the 19th Senate District (30%), and it seems like each house district is similar to the senate seat as a whole. Any Dems on the ground who can offer more?
The big two questions are 1) are any other candidates running for this seat-especially on the Democratic side, and 2) when Granholm will set a special election date for this race. Most insiders seem to think that she'll set it for the municipal primary (August 4) or the municipal general (November 3) in 2009.