After reading Phil's [http://westmichiganrising.com/showDiary.do?diaryId=1105 thoughts] regarding a long-term strategy for our local county parties in west Michigan, I looked at some of the baseline numbers from Kent County over the past five elections (2000 to 2008). The table below shows the TOTAL number of State Board of Education votes for the Republican and Democratic candidates on the municipal level from 2000 to 2008, along with the Democratic percentage of the two-party vote. As you can see in Table 1 below, the picture looks very interesting and encouraging.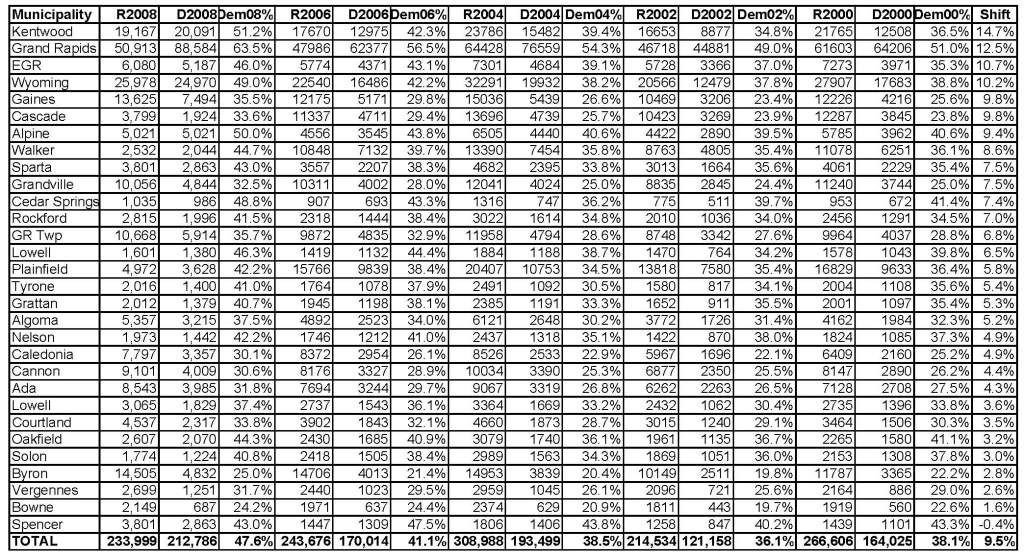 http://i303.photobucket.com/albums/nn153/pbratt/Kent00-08Baseline.jpg
In 2000 Grand Rapids was the only part of Kent County that had a Democratic majority base. In 2008 Grand Rapids, Kentwood, and Alpine Township had a Democratic majority base, with East Grand Rapids, Wyoming, and Cedar Springs not far behind. The manipulates in Table 1 are arranged by the greatest percentage shift in the Democratic percentage of the vote between 2000 and 2008, and Kentwood clearly wins first place, shifting from a Democratic base of 37% in 2000 to 51% in 2008. Grand Rapids follows with a 12% shift (51% to 64%), with EGR (11% shift) and Wyoming (10%) following close behind. That said, even places that had very small Democratic bases, such as Gaines and Cascade Townships, saw their Democratic base increase by 10% and is of critical importance (as I will discuss later). Other portions of Kent County (such as Bryon, Bowne, and Vergennes) continue to have a Democratic base less than 30% of the total vote.
While others may disagree (and feel free to do so since I am over 600 miles away), it seems from the data that we are seeing the emergence of a Democratic coalition forming within the southern first-ring suburbs such as Kentwood, Wyoming, East Grand Rapids, and in Alpine Township to the north of Grand Rapids. It is less clear whether the same is happening in the northern suburbs of Walker, Grand Rapids Township, or in southern suburb of Grandville. It seems to me that growing concerns regarding the suburban economic (especially in Wyoming and Kentwood) will dominate the local political discourse, as will the economic health of the west Michigan region's heart-Grand Rapids. This strikes me as the beginning of a new political culture, and after thirty years of dominance between 1978 and 2008 by a libertarian Republican Party devoted to minimal government and social issues is nearing its end. While economic concerns favor Democrats today, there is no guarantee that it will in two, five, or ten years. A clear, long-term strategy for the local party should be established to build some substantial policy successes, which could include economic revitalization in the commercial corridors of the metropolitan Grand Rapids, creating a uniformed zoning code among municipalities, creating a county-wide master plan to reduce sprawl, the development of farmland preservation areas to preserve our rich agricultural lands, the establishment of a county-wide income tax of 1% to help replace the disappearing state funding for municipal governments in order to preserve basic services and eliminate economic distortion of local income taxes in Walker and Grand Rapids, the promotion of a regional economic development strategy the reduces harmful competition between local municipalities, and the fostering a greener Kent County that ensures our long-term economic and environmental competitiveness in a global marketplace (And I am certain that the folks at the top are already thinking about this-PB).
I have a Republican friend from my Calvin College days who is now working for various GOP campaigns in Virginia. I stay in pretty close contact with him, despite being on the other side of the fence, and he once told me that the secret to creating a successful local party over the long-term was to have a devoted bunch of folks who were up for the nitty-gritty of party organizing. At one point he mentioned the name of Chris Schoenewald, a GOP county chair in Virginia as the ultimate model for any local party head. I forgot about this until Nate Silver and Sean Quinn did an article on Schoenewald on their 538 website in late October of this year. I've linked the article [http://www.fivethirtyeight.com/2008/10/on-road-charlottesville-virginia.html here], and I recommend reading it, since despite being of a different party, Schoenewald clearly spells out the most important steps that we should think about taking.
First, building a list of Democrats is very important and a long-term project. Finding out as much as we can about the 106,393 Democrats in Kent County who comprise of our base is perhaps the most important information we can work on. I know that there are some folks who already have develop lists, and these lists are important to ensuring that we are keeping track of our core supporters as we head into the 2010 election cycle. Secondly, being willing to take a loss is important. Kent County has long been the seat of the MI Republican Party, and it is likely we will get our chins knocked a bit in the next cycle or two. However, cutting our losses on the county level by almost 55,000 votes over an eight year period has significantly reduced the Republican's long-term advantage in statewide races. Every vote we get out in Gaines and Spencer Townships is a step in this process. Finally, developing a party apparatus is crucial. There are 268 precincts in Kent County, and each precinct needs to have an active precinct captain who can work his or her neighborhood hard to help Democratic candidates all the way up the ladder. There are 89 precincts in the six suburbs around Grand Rapids (Walker, Grand Rapids Township, East Grand Rapids, Kentwood, Wyoming, Grandville) that really need to have precinct captains to develop strong local parties that can run strong local Democrats.
In the Lower Merion Township Democratic Party (of which I am currently a precinct captain-pending party approval in January of 2009), we are working in a larger Montgomery County Democratic Party that has about 31 municipalities. Each municipality's Democratic organization is vital to recruiting volunteers, has access to the master vote list, and is the first face that local Democrats connect with during the lulls between campaign seasons. Right now we are looking at a number of Democratic precincts that have below average turnout (in a municipality that has an average turnout rate of 75%) or precincts that are rapidly trending Democratic. Some of the old-timers note that our township has moved from being a safe GOP township back in 1992 to a strong Democratic bastion by 2004. This was possible by developing local organizations that carefully work on a weekly basis during the "off-season."
This off-season will be a great time to think about the next steps to pursue in Kent County. I think the most important local race in 2010 will be the State Senate seat, which is looking like a doable race (I'll post more on this in January). Holding our newly captured County Commission seats in the 8th, 12th, and 19th Districts will also be a priority, and recruiting strong candidates for Districts 2, 11, and 13 is another early action item. Likewise, doing some serious brainstorming on how to encourage greater turnout in core Democratic Kent County precincts would help determine some long-term strategy for 2010 and beyond. Finally, doing the lonely work of data processing and local party building is a task that is truly of vital importance.