Another election cycle, another state GOP bloodbath in Michigan. Of course, you'll hear Brian Calley (R-District 87-Barry & Ionia Counties) saying that the election was not as bad as it could have been to the Republicans, but anytime that you are pleased with 43 seats in the State House (as opposed to 40), your party is in a world of hurt.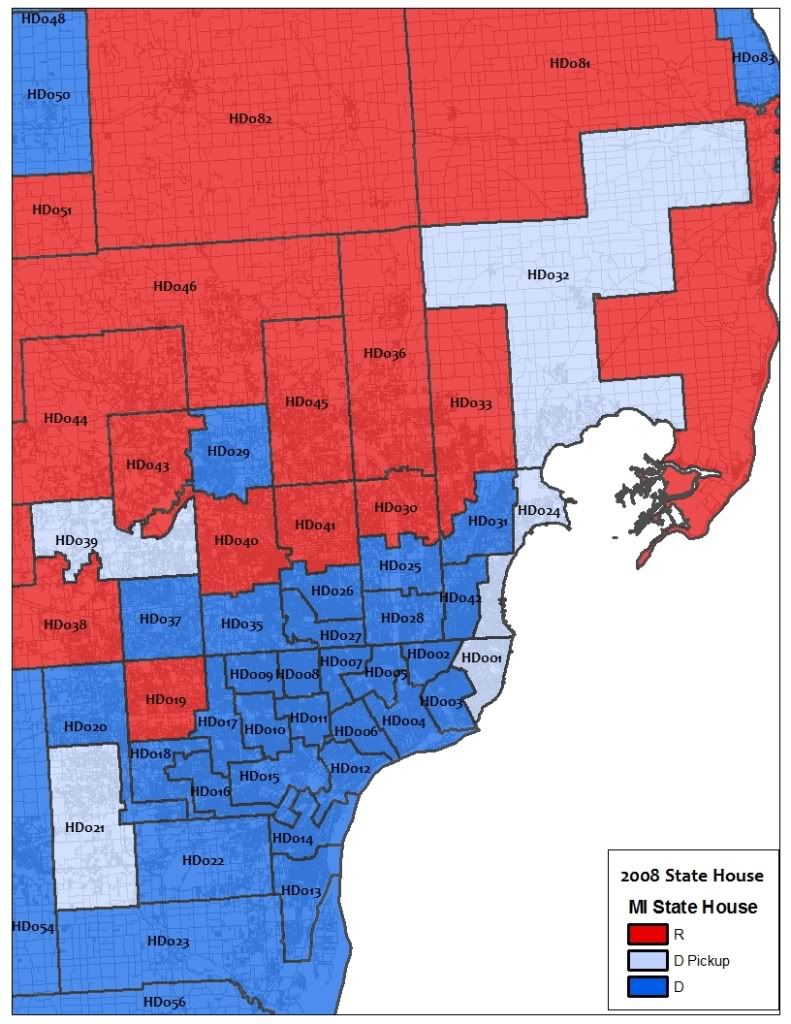 http://i303.photobucket.com/albums/nn153/pbratt/MISHMetroDet2008.jpg
And a world of hurt is what the Republicans woke up to on November 5. The GOP lost nine open seats, reducing their numbers from 52 to 43. As Map One shows, five of these seats were concentrated in metropolitan Detroit, with Districts 1, 21, 24, 32, and the ever elusive 39 finally falling in the Democrats hands after four election cycles. A historic observer will note that Democrats have not had this sort of margin in the State House since 1976, which ushered an era of party domination in the chamber that lasted until 1992. The loss of five GOP seats in metro Detroit leaves the Republican Party with just one seat (District 19-Livonia) in Wayne County, while losing one seat in Oakland County and two in Macomb County. The reverse of this gain this that the Michigan Democratic Party is even more dominated by its southeastern membership, a situation that the GOP never ceases reminding the rest of state voters about.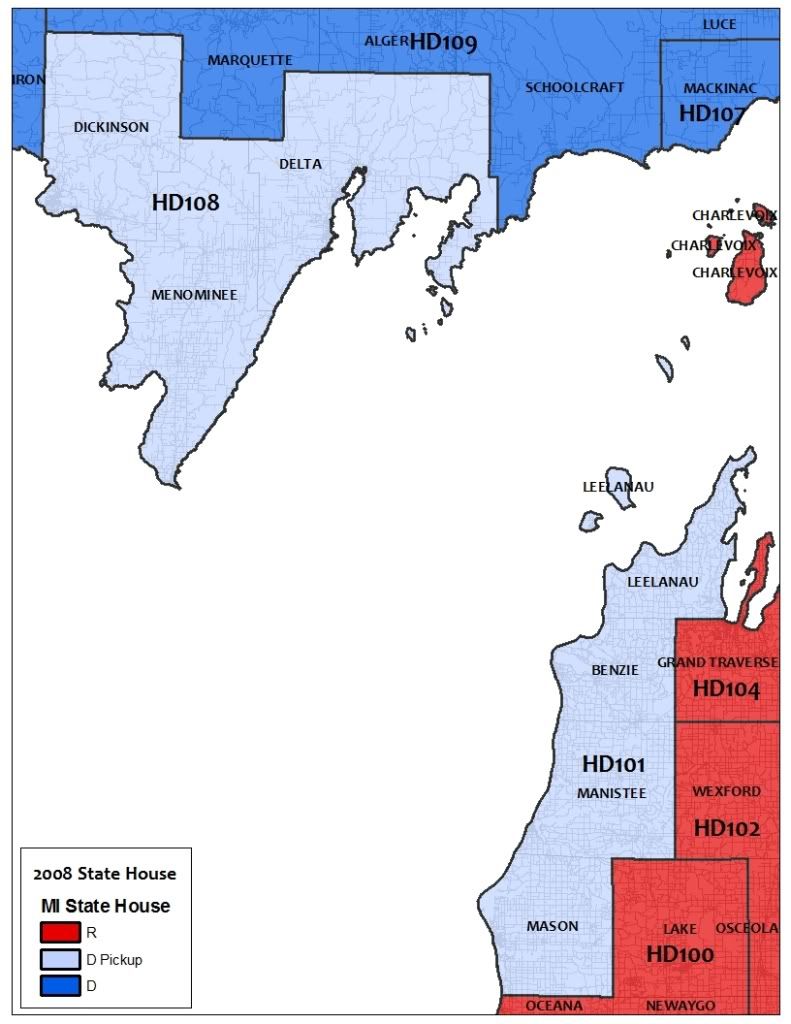 http://i303.photobucket.com/albums/nn153/pbratt/MISHUP2008.jpg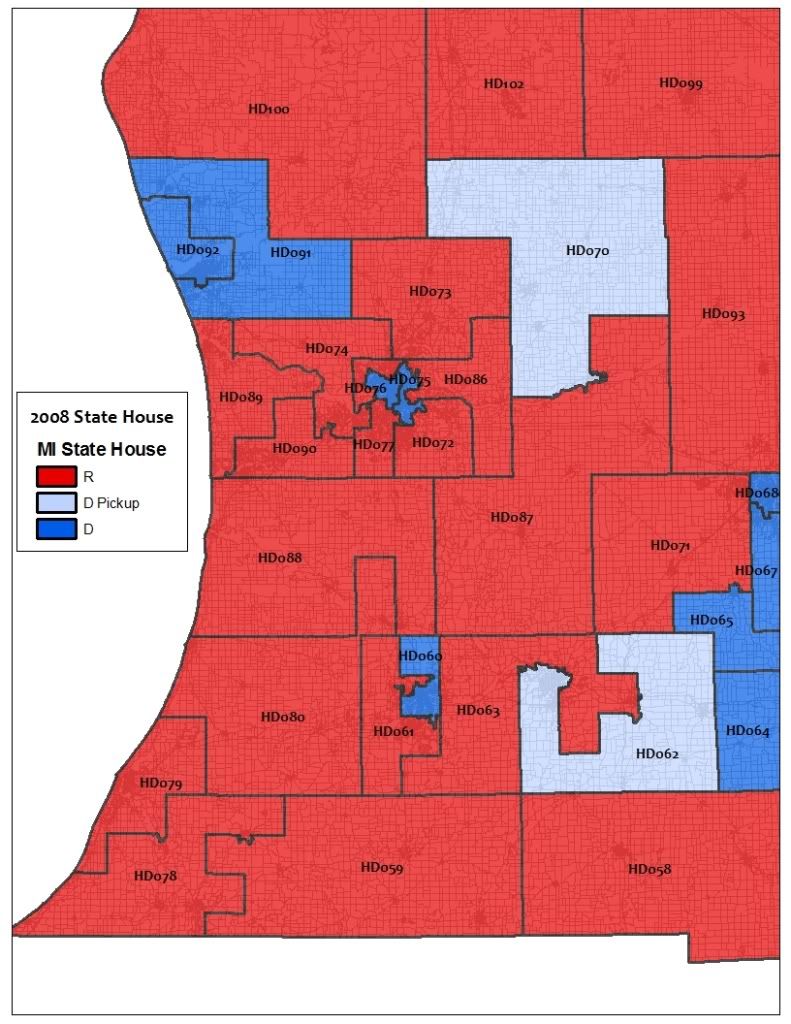 http://i303.photobucket.com/albums/nn153/pbratt/MISHWM2008.jpg
That said, Democrats also picked up four seats outside of metro Detroit. Three of these seats are in western Michigan, historically a GOP base. Districts 62 (Battle Creek) and 70 (Montcalm & Ionia Counties) have long been held by the GOP, and excellent Democratic campaigns wrestled these seats from the GOP. Kate Segal especially dominated Republican Greg Moore in District 62, causing the GOP to abandon the district well before the middle of October. In the Traverse City region Dan Scripps won District 101 (Benzie, Leelanau, Manistee, Mason Counties) after a second attempt, this time against a more conservative opponent Ray Franz. Finally, Democrat Judy Nerat beat Republican Mike Falcon in the 108th District (Dickinson, Delta, and Menominee Counties), giving Democrats total control over the Upper Peninsula for the first time since the early 1990s.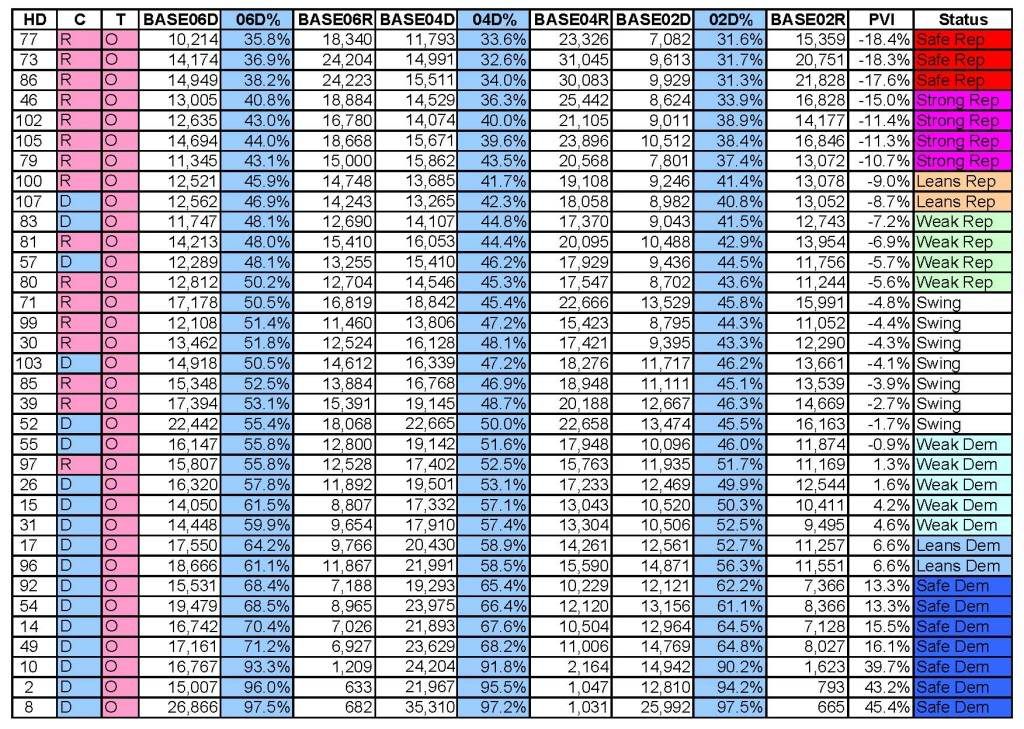 http://i303.photobucket.com/albums/nn153/pbratt/MIOpen2010.jpg
While I will not belabor this point, I do want to stress that in the past four election cycles spell certain trends for each party to watch in 2010. First, parties lose seats when they become open, not due to an incumbent's defeat. Only two Democratic incumbents have lost their seats since 2002 (one in 2002 and one in 2004), while the Republicans have lost four races (one in 2004, three in 2006). Secondly, as Figure 1 shows, there are thirty four seats open in 2010. While the GOP might talk bravely about how they are going to pick up 13 seats and return to the majority, the odds of achieving this are rather steep. Of the thirty four races, seven are safe Democratic seats, and seven are safe Republican according to the 2007 PVI. Of the remaining seats, the Democrats hold twelve, while the GOP currently holds nine. To make a chamber flip possible, the Republican Party would need to pick up a majority of these Democratic seats, hold five swing seats, and knock off a few incumbents. This would be a big task to accomplish. Thirdly, from all indications, 2010 is going to be a year where both parties will focus on the gubernatorial race and the State Senate. I'll be posting on the state senate early next year, but at this point it will be very possible that the Senate could be ground zero for Republican efforts to hold onto political control to reduce the impact of statewide redistricting.
In short, the Michigan Republican Party lost bad last Tuesday. There was no expansion of their coalition, and the only item to cheer about was the fact that the party held onto some of its seats that it was worried about losing (Districts 51, 78, 98). The next year will be an interesting time to watch the GOP claw its way around ideological issues and a gubernatorial primary.