This slipped by a few weeks ago. According to the Kalamazoo Gazette, former Republican Representative Lorence Wenke and current Republican Representative Tonya Schuitmaker are running to replace term-limited Senator Tom George in 2010.
GALESBURG -- Former State Rep. Lorence Wenke today formally announced that he will run in 2010 for the state Senate.

The Republican said earlier this month that he planned to seek the 20th District seat that state Sen. Tom George will have to vacate in 2010 because of term limits. He announced today that he had filed paperwork to run.

Wenke was elected to represent the 63rd District in the state House of Representatives in 2002 and served through 2008. His leadership positions included chairing the House Tax Policy Committee.

Wenke likely will face a primary battle for the Republican nomination for the 20th District Senate post. State Rep. Tonya Schuitmaker, of Antwerp Township, announced Monday that she will run for George's seat. Schuitmaker represents the 80th District in the state House, which includes Van Buren County, the city of Otsego and the townships of Otsego and Watson in Allegan County.


Read the full story from [http://www.mlive.com/news/kalamazoo/index.ssf/2009/05/former_state_rep_lorence_wenke_1.html The Kalamazoo Gazette]:
This will be an interesting primary should both candidates stay in the race.
Both Republican candidates hail from outside the urban core of the 20th District, Wenke from Richland Township, Schuitmaker from Van Buren County. Check out the map below for a better picture.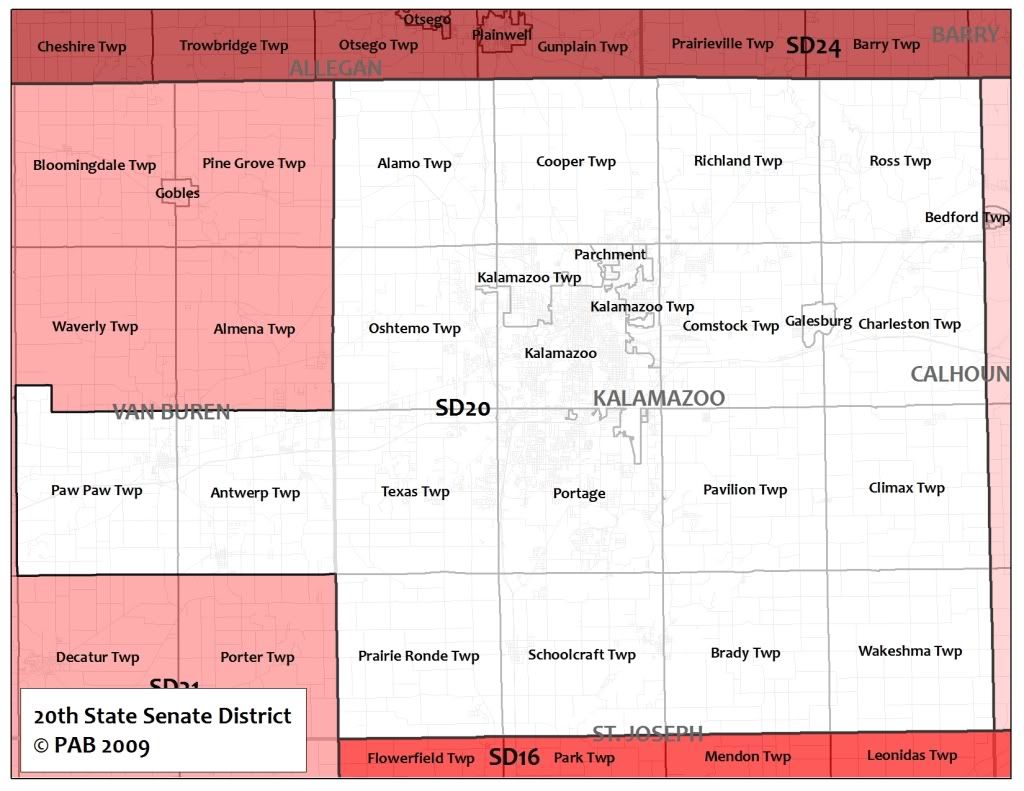 http://i303.photobucket.com/albums/nn153/pbratt/20thStateSenate.jpg
My guess is that Schuitmaker has a tougher road, given that only two townships from her house district (District 80 covers all of Van Buren County and a portion of Allegan), and she'll need to do some hard core pavement pounding to get her name across.
I'm sure that our Kalamazoo Democratic friends can give us more information, but what candidates are emerging from our side? Personally, my guess is that if the GOP ran a candidate from the rural portion of the 20th, it would hinder their efforts in holding the seat, particularly if a strong Democratic candidate came from Kalamazoo City, Township, or Portage Township. The 2008 Democratic Baseline percentage for the 20th is 57.3%, and makes it a clear swing district that the Republicans are dying to hold in 2010. I checked the Michigan Secretary of State financial filing reports, and it looks like Ed LaForge still has an active finance committee. I'm wondering if current Democratic Representative Robert Jones is thinking about running, or if the 2006 Democratic candidate Alexander "Sandy" Lipsey might give the race another shot. Comments are open for further thoughts.