Not really a WMR concern yet, but with Representative Mary Valentine running for the 34th State Senate seat, this news from Muskegon County via a conservative blog is informative.

Ken Punter of Ravenna has made a pre announcement that he will throw his hat into the ring to run as the Republican nominee for Michigan's 91st District House Seat. Ken along with his wife Kay made their plans known last night at the monthly Muskegon County Republican meeting.

Kay will be Ken's help mate in their endeavor. From financial guru to campaign manager; and all the other plethora of things involved in a campaign; this will be a family affair.
Read the whole story here:
http://bottomuppolitics.blogspot.com/2009/08/servant-leadership-for-91st.html
I don't know much about Punter, but the story from BUP sounds like he's a perfect social conservative for the GOP's religious warriors in this district. Yet to be determined in the GOP primary is whether Holly Hughes, the defeated GOP candidate from 2008, will attempt to run again. My bet is that she wants to try again.
The Dems will need to find a candidate that can match Valentine's incredible ground game that made a toss up district appear to be a much more Democratic seat in the past two election cycles. For reference, a Map of District 91 is linked below: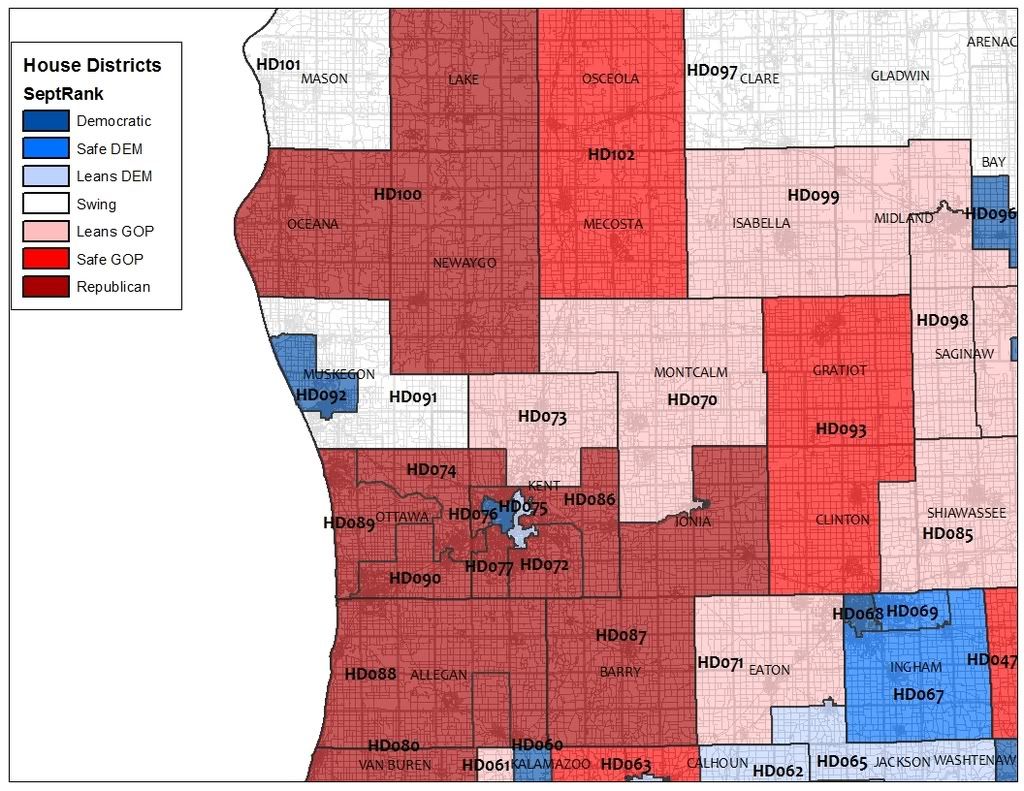 http://i303.photobucket.com/albums/nn153/pbratt/HouseDistrictMapWM.jpg
I don't know if it has been mentioned on this site before, but Geoff Hansen will likely be Valentine's opponent in the 34th State Senate race. Hansen represented the 100th House District (which covers Newaygo, Oceana and Lake Counties) from 2003 to 2009, and apparently has done a lot of campaign events throughout the 34th, especially in Muskegon County. Given that Muskegon County represents 64% of the district's population, it is a good idea.