http://i303.photobucket.com/albums/nn153/pbratt/AbandonedGR.jpg
(Photo by Docksidepress)
Central cities across the United States have struggled mightily with the abandonment of property since the late 1940s. In the decades that followed, cities that once held thousands of housing units for millions of working-class residents, and provide locations of manufacturing employment saw both of these places abandoned by residents and employers alike. This paper first explores the many factors that triggered property abandonment within central cities, and how the various levels of government responded to this crisis. Of particular note is the development of land banks by local and state governments to combat property abandonment within urban communities. The essay next examines the State of Michigan's response to property abandonment that changed the foreclosure process and authorized the creation of land banks. Finally, this paper looks at possible benefits that land banks offer to the metropolitan Grand Rapids in fighting property abandonment.
Property abandonment occurs for numerous reasons. Historically, economic and locational factors played a major role in causing abandonment. The declining economic growth in central cities after the 1940s resulted from many manufacturing firms relocating from obsolete industrial sites to the new developments often located outside urban centers and the traditional industrial heartland of the Midwest and Northeast. As manufacturing firms left their former establishments, employees often followed, leaving old neighborhoods such as the South Bronx via the new interstate highways to new suburban developments that were subsidized by an array of federal programs that were a hallmark of New Deal Liberalism. Many neighborhoods in cities like Detroit, New York, and Flint were left housing increasingly diverse and poor populations that were denied economic opportunities that had previously existed in central cities and were increasingly located in suburbs. As detailed by Jordan Rappioct, the economic decline of central cities spread throughout many metropolitan regions, and declining regional economies hurt the aging housing stock of inner city neighborhoods much harder than the newer housing stock located in the surrounding suburbs. As economic growth stagnated in many regions of the United States by the late 1970s and early 1980s, many residents abandoned their property, concluding that the costs of continued ownership of their property outweighed any benefits.
Physical and market obsolescence also caused property abandonment. As detailed by Alan Mallach, many properties were abandoned when the costs of maintaining the physical condition of the property exceeded the market value of the property. Many structures were obsolescence by the 1960s, as the layout and size of these buildings were built without the amenities such as green space and detached single-family housing that new postwar housing developments provided. When coupled with environmental contamination, locational, physical, and market disadvantages, properties in neighborhoods throughout places like Grand Rapids were abandoned.
Abandoned property quickly became a monstrous problem within urban communities. Vacant buildings often served as locations of crime and drug abuse, scarring the surrounding properties by becoming blighted eyesores that devalued nearby property values and destabilized neighborhoods. Many other neighborhoods experienced population loss and declining property values, which caused more residents to abandon their properties, furthering neighborhood decline. Abandonment of property became a common feature of many urban landscapes, and required a coherent approach by every level of government in order to provide a long-term strategy to fighting abandonment.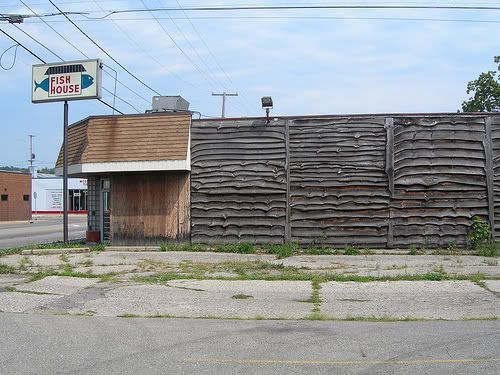 http://i303.photobucket.com/albums/nn153/pbratt/FishHouse.jpg
(Photo by Docksidepress)
The absence of a federal leadership in shaping urban policy after the failure of Great Society programs in the late 1960s placed the burden of creating a long-term coherent strategy for urban issues for state and local governments. After years of inaction, many local and state governments began using new strategies to combat property abandonment. These governments began to chart their own strategies to combat abandoned properties in the early 1970s that focused heavily on partnerships with neighborhoods and community development corporations. One of the more popular strategies in the past thirty years pursued by state and localities has been the establishment of land banks. According to Frank Alexander, St. Louis, Cleveland, Louisville, and Atlanta were among the first municipalities to create effective land banks that helped addressed each community's high number of vacant parcels, and at the same time provide a long-term strategy for restoring various communities within each metropolitan region. These land banks were created over a thirty year period, with St. Louis being the first in 1971, followed by Cleveland in 1976, Louisville in 1989, and Atlanta in 1991. Differences and similarities exist with each community's land banking strategy. While all land banks seek to return abandoned or tax delinquent property to productive use, each land bank was placed under a different set of legal structure and priorities. As creations of state government, land banks are established by state laws that set guidelines and create different powers for each organization.
The Michigan legislature began actively pursuing innovative strategies to combat property abandonment in the late 1990s. In 1999, the Legislature changed the state's existing tax foreclosure law. Under the existing law, abandoned properties were often transferred to private owners through the sale of tax liens or were left in the hands of the state. This process that often took over five years and generally failed to provide a clear title that further discouraged reinvestment. The new state law accelerated the tax foreclosure process, reducing the foreclosure timeline to a two year window, and allowed for abandoned properties to be taken by the state in a year. This streamlining of the foreclosure process also allowed for the transferring of clean titles to parties interested in purchasing foreclosed properties, which legislative sponsors hoped would encourage reinvestment within urban communities.
Four years after the passage of PA 123, the State Legislature approved the authorization of the Michigan Land Bank Fast Track Act. This legislation, known as PA 258 of 2003, allowed for the establishment of county level or multi-jurisdictional land bank authorities, and gave these organizations the power to initiate expedited "quiet title" clearance on abandoned properties to speed up the sale process. The legislation also allowed for land banks to use state Brownfield credits to fund the clearing of titles and the sale of lands, invested land banks with the power to issue bonds, and exempted properties owned by land bands from property taxes for five years from the date of the sale. This legislation gave Michigan a powerful new tool to combat property abandonment, and made the state a leader in innovative redevelopment strategies of urban space.
The Genesee County Land Bank (GCLB) is considered Michigan's most innovative land bank and offers an excellent model for Kent County. Created in 2002, the GCLB uses effective strategies to combat property abandonment, and provides an array of services to county residents, which include demolition, foreclosure prevention counseling, rental management, housing renovation, and property maintenance. As of 2006, the GCLB has sold over 1,000 properties, demolished 531 structures, and currently holds title to over 2,500 properties. The land bank works with local legal aid workers in Flint to provide foreclosure counseling and advice to homeowners faced with losing their homes, and also seeks to encourage home ownership by offering rehabilitated homes to tenants residing in foreclosed properties. Most importantly, the GCLB works with neighborhood organizations and existing community development corporations to create long-term collaborative strategies for the redevelopment of abandoned properties within the county. The GCLB also uses its purchasing power to develop a county-wide green space development strategy. Working with municipalities, the GCLB has helped develop corridors of parcels to help develop the nucleus of a park system in portions of Flint and other communities that have historically been underserved by parks.
Opportunities for a Kent County Land Bank
In 2009 the Kent County Commission moved to provide funding for a countywide farmland preservation program through a Purchase of Development Rights program (KCPDR). The KCPDR would provide $1 million in funding over the next three years in hopes of preserving 25,000 acres of farmland by 2013. Commissioners hope that eventually more of the county's existing 170,000 acres of farmland will be preserved through a dedicated millage program that would keep the land as agricultural or converted into parkland in the coming decade.
If a KCPDR provides a "push" factor away from green space development on the fringe of existing urban development, other factors are beginning to provide a "pull" force for future development within the established urban core of Kent County. Map 1 shows existing land use in Grand Rapids, in which denser areas of residential, commercial, and industrial development are concentrated within the city's pre-1950 core. Similar areas of denser development exist in the Division Avenue corridor of Wyoming and Kentwood, as well in East Grand Rapids. With the adoption of the form-based zoning by the city of Grand Rapids in 2005 future development within the city is likely to promote greater density within portions of the city. Whereas traditional "Euclidean" zoning was developed in the early 20th Century to limit incompatible mixing of land use and to limit residential density, form-based zoning seeks to promote zoning based on the urban form, and allows for mixing of land use depending on the type of urban space. A form-based zoning code puts far greater emphasis on developed urban space, as it can be used for a greater array of uses, and allows for future mixed-use developments in all of the city's commercial corridors. Other developed communities Kent County, including Wyoming, Kentwood, and East Grand Rapids, are considering adopting form-based zoning codes as well.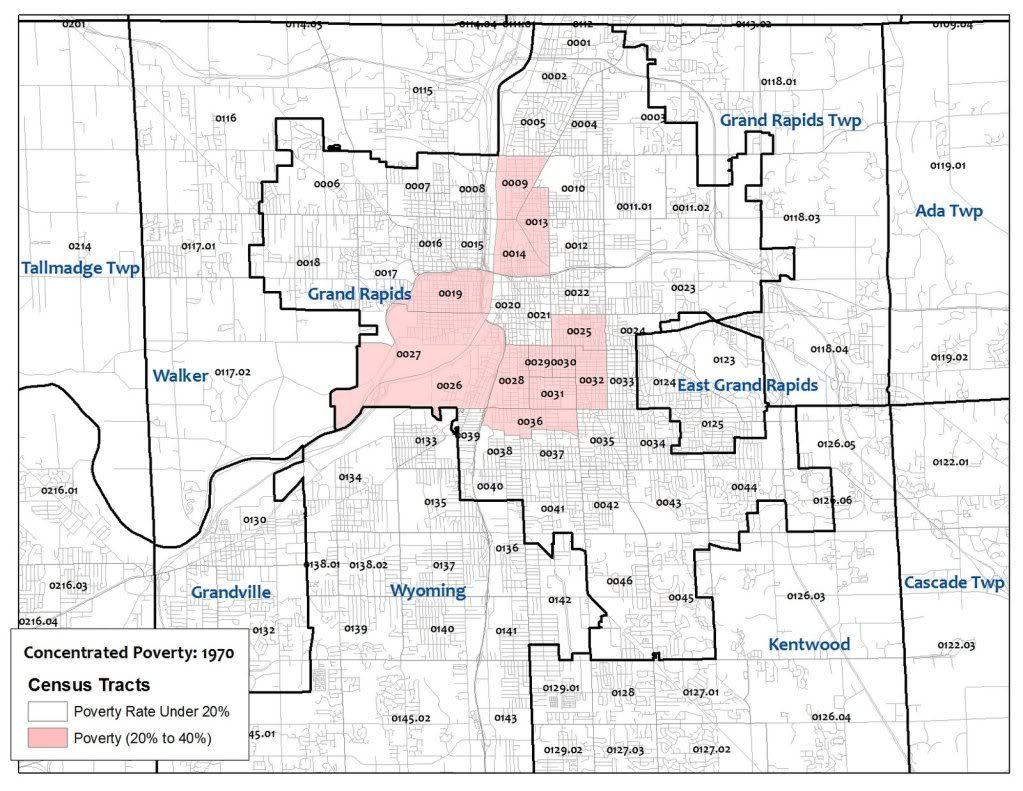 http://i303.photobucket.com/albums/nn153/pbratt/1970PovertyMap.jpg
http://i303.photobucket.com/albums/nn153/pbratt/1980PovertyMap.jpg
http://i303.photobucket.com/albums/nn153/pbratt/1990PovertyMap.jpg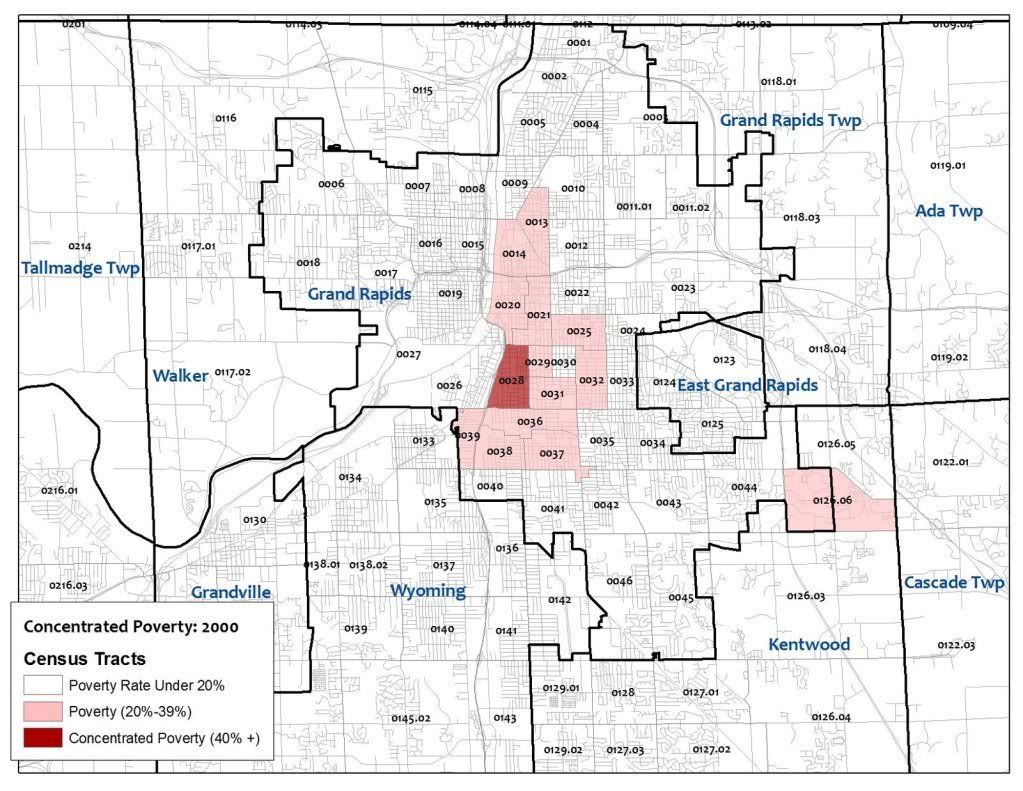 http://i303.photobucket.com/albums/nn153/pbratt/2000PovertyMap.jpg
A KCLB can provide greater impetus to this "pull" on development to portions of an urban core that has suffered from high levels of poverty since the late 1960s. As Maps 2-5 show, a large portion of Grand Rapids' core has had poverty rates above 20% since the 1970, and areas of the south side have had concentrated poverty levels of over forty percent. The 2010 Census is likely to show areas of Kentwood and Wyoming at least five census tracts with poverty levels over 20%, and two areas will have levels of concentrated poverty. This long-term concentration of poverty in Grand Rapids and Kentwood has proved to be a problem for the region's long-term health. Thanks to a wealth of research done by Bruce Katz, Paul Jargowsky and others, we know that in addition to creating unsafe and unhealthy neighborhoods for residents, high poverty levels cause long-term property abandonment and disinvestment by landowners. Any effort to limit future green space development needs to pull back investment and residents to the portions of the urban core that have suffered from long-term concentrated poverty.
A KCLB can help remedy the long-term disinvestment through a number of steps. First, the KCLB can help to promote further redevelopment of residential housing. Existing community development corporations operating in metropolitan Grand Rapids often have limited fiscal and physical resources to develop a sustained approach to combating property abandonment. The goals outline in various municipal master plans in Kent County that seek to promote redevelopment within various neighborhoosd would be aided greatly by the KCLB that would have special powers to allow for a speedy and effective taking of abandoned property titles and reducing the purchasing costs. The KCLB could also work with the municipalities and developers to begin identifying parcels that are in tax-delinquency to create a long-term development strategy throughout Kent County.
An effective land bank would also provide assistance for current neighborhood residents. The GCLB provides financial counseling for residents within Genesee County that are faced with the possibility of home foreclosure. The KCLB could provide this same service to residents in neighborhoods throughout Kent County. The KCLB should also serve as an information clearinghouse for residents interested in purchasing side parcels or existing vacant properties or lots. A land bank could also work with community development corporations such as the Inner City Christian Federation and Neighborhoods Ventures to redevelop vacant properties. As shown by the GCLB's work, such an authority may provide smaller neighborhood level organizations with a management system and expertise to conduct complex redevelopment efforts that previously might not have been possible for these organizations. Likewise, a land bank could allow for closer collaboration between community development corporations and municipal organizations that might have not had the resources to work together on various redevelopment projects.
A partnership with a land bank provides many effective tools for fighting property abandonment in concentrated poverty neighborhoods south of Franklin Avenue, west of Fuller Avenue, north of Burton, and east of US 131. The large number of vacant industrial and residential properties within this area may be quickly processed by a land bank, and be effectively redeveloped to promote the restoration of residential housing in the neighborhood, as well as providing funding for long-term environmental cleanup of polluted industrial sites. The KCLB can also work with the Right Place to find potential businesses to locate in redeveloped industrial and commercial parcels.
Likewise, the KCLB can help promote county-wide efforts to create more green space. By holding parcels of land for municipal governments to add to existing urban park space, Kent County can develop an interconnecting park system that can help preserve an ecological habitat for natural life, as well as providing green lungs for the county residents. Many neighborhoods within the urban core are underserved by parks, and additional park space would provide greater recreational spaces for current and future residents.
A KCLB is urban redevelopment tool that complements green space preservations efforts through the KCPDR. The KCLB can effectively assist all municipalities, particularly those within the metropolitan core (East Grand Rapids, Grand Rapids, Grand Rapids Township, Grandville, Kentwood, Walker, and Wyoming). The KCLB will require an active board that represents the Kent County Board of Commissioners, Kent County municipalities, and private individuals. With proper guidance and mission, the KCLB can be an active agent in the redevelopment of Kent County's urban places.