While he hasn't filed to make it official yet, Deshazor is telling folks he is in. From WKZO (AM radio):
KALAMAZOO -- Portage State House Representative Larry DeShazor is the latest to jump into the race for the State Senate…its just that he hasn't quite made it official yet.

We heard the rumor and asked him if that was his intention when he appeared at Governor Granholm's appearance at WMU on Thursday. He said yes! He says the formal announcement will come in January.

State House Rep. Tonya Schuitmaker and former State Rep. Lorence Wenke have already announced that they will also be running for the seat now filled by Dr. Tom George, who is term limited.

So far former Kalamazoo Mayor and current State House Rep. Robert Jones is the only Democrat vying for the seat in the 20th Senate District.

The primary will be next August and the General Election in November.
http://new.wkzo.com/news/articles/2009/nov/19/exclusive-listen-state-representative-larry-deshaz/
As posted in an earlier diary, here is a map of the 20th District: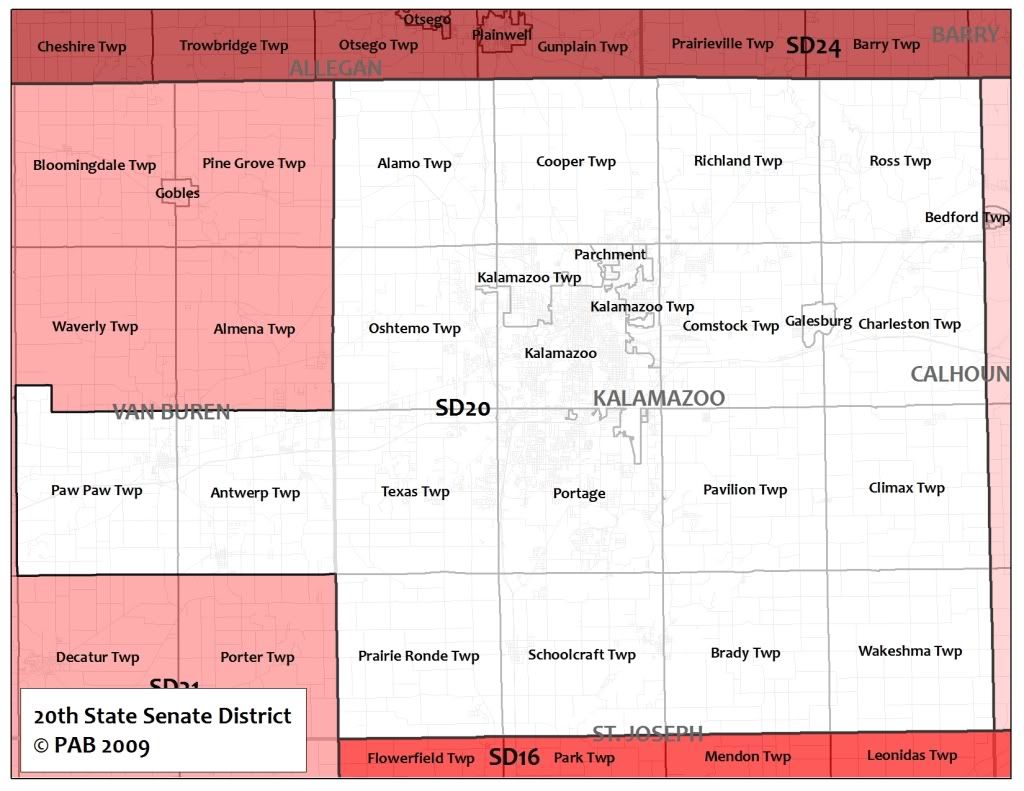 http://i303.photobucket.com/albums/nn153/pbratt/20thStateSenate.jpg
Perhaps Jacob Hoogendyk is going to announce as well? More later on this, but one should note that House District 61 is once again an open seat, and a potential pickup for the Dems