(Cross-posted on WMR, ML, BFM, and SSP-pb)
(photo by Tom Gill of beautiful Lake Michigan)
As we celebrate a beautiful Labor Day weekend, we can also rejoice in the unofficial start date of the 2010 campaign season. While many voters were bombarded with attention from campaigns over the past few months during primary season, the general election season will be upon us now with full vigor. Labor Day weekend also nicely coincides with the post-primary filing date for Michigan's legislative campaigns. Candidates must report the amount of money they have raised and spent between July 18 and August 23, and must also declare their cash on hand at the end of the reporting period.
Thus we can see the financial condition of candidates entering to the last 61 days before Election Day in the contours of Michigan's political landscape. As in previous analysis of the State House and Senate candidates, I have collected the reported financial data that can be obtained through a subscription. Please feel free to contact me at peterbratt@gmail.com.
State House
While signs of a Republican edge in the 2010 election have emerged over the past few months, the reality of Michigan's political geography will reduce the number of competitive seats in the state to no more than fifteen. Using electoral data from the past four cycles, I've created a House District matrix that is shown in the
linked Google document
. Both parties have a number of safe seats that are not going to attract the attention of the opposing party; the Democrats have 31, the Republicans have 25. The filing date backs the electoral data. 22 Republicans have filed financial filing waivers, meaning they will raise no more than $1,000 for the 2010 election cycle, meaning they will most assuredly lose in November. Thirteen other Republican candidates have raised less than $1,000, and are already being heavily outspent by their Democratic opponents. Thus, for all intent and purpose, the Democrats will have at least 35 Representatives in January 2011.
27 Republicans will also most assuredly return to Lansing with these 35 Democrats. 17 Democrats have filed financial waivers, while six Republicans are unchallenged this fall (Peter Lund-36th, Kenneth Kurtz- 58th, Bob Genetski-88th, Joe Haveman-90th, Jim Stamas-98th, Wayne Schmidt, 104th). Say what you will about the Michigan Republican Party, but they ran candidates in every State House District, something that the Democrats didn't do this cycle. The remaining four Republicans face rather nominal opposition, although Democrat Garry Post has self-financed his campaign against incumbent Republican Cindy Denby in the 47th District (northern Livingston County).
The remaining
48 districts
are more competitive. Of these seats, I have classified 18 as Democratic leaning districts and fourteen as leaning Republican. Of the 18 Democratic seats, only 16 are potentially competitive since two Republicans have filed financial waivers. Eleven of these 18 Democrats are incumbents and are generally in a stronger financial position than their Republican opponents. Democratic incumbents Marty Griffin (64th-Jackson County) and Judy Nerat (108th-Menominee County) are the only two incumbents in less than robust financial positions against their opponents. Democrats will be most concerned about the seven open Democratic-leaning districts, six which the Democrats are defending. In the 15th (Dearborn), Republican Suzanne Sareini has double the money that her opponent Democrat George Darany has, which could make this seat one the GOP could put in play. In the 26th (Royal Oak), Democrat James Townsend is fresh off an expensive primary, while his Republican opponent Kenneth Rosen has a significant financial edge due to his self financing. In the 55th (Monroe and Washtenaw Counties) and the 75th (eastern Grand Rapids) the Democratic candidates Michael Smith and Brandon Dillon have significant financial advantages over their opponents, making the likelihood of the GOP House Caucus spending funds in these races much less likely. In the 110th (western Upper Peninsula) Democrat Scott Dianda has a financial edge over Republican Matt Huuki, although both candidates have not raised much money. The 31st District is a Republican-held seat in Macomb County that could be a potential Democratic pickup opportunity, and Marilyn Lane is facing Republican Dan Tolis, who has poured more than $100,000 into his campaign coffers.
Of the fourteen Republican leaning seats, six are held by GOP incumbents, five are open Republican seats, and three were vacated by term-limited Democratic incumbents. Three Democrats have filed financial waivers, meaning that only eleven seats are active elections. All GOP incumbents have a strong financial edge, while in the five open Republican seats, two Democratic candidates has filed a financial waiver (District 79 and 81), and in two races the Republican candidate has a large financial edge (Districts 33 and 61). Only in the 80th District (Van Buren County) does Democrat Tom Erdmann have a narrow financial advantage against Republican Aric Nesbitt, who spent a lot of money in a six-way Republican primary. Of the three Democratic-held district, two (District 83-Sanliac County, District 107-eastern Upper Peninsula) appear to be Republican pickups, as the Democratic candidates in each district have raised very little money in a tough political environment. In the 20th District vacated by Representative Marc Corriveau, Democrat Joan Wadsworth has a significant financial advantage over Republican Kurt Heise, who has largely self-financed his campaign. If Wadsworth can hold the 20th, which covers Plymouth Township and Northville in Wayne County, it will be a testament to her political skill.
The remaining
16 seats
are swing districts, with five held by the GOP. The five Democratic incumbents (District 1, Tim Bledsoe; District 21, Dian Slavens; District 24, Sarah Roberts; District 39, Lisa Brown; District 70, Mike Huckleberry) all have large financial advantages over their Republican opponents, an advantage which the Democratic State House caucus will certainly supplement over the next two months. The six open-Democratic held seats are much more open to a Republican takeover. The Republicans look especially competitive in Districts 52 (western Washtenaw County), 65 (Jackson County) and 91 (Muskegon County), thanks to three self-financing candidates in Mark Ouimet, Mike Shirkey and Holly Hughes. While I suspect that Christine Green will be able to benefit from strong institutional support in Washtenaw County, I wouldn't be surprised to see Shirkey and Hughes win their districts. The 106th also looks like a possible flip, with Republican Peter Pettalia out raising Democrat Casey Viegelahn. The two remaining open Democratic seats seem to be much safer for their party, with Van Sheltrown in the 103rd District (Missaukee, Roscommon, Ogemaw, and Iosco Counties), and Harvey Schmidt in the 57th District (Monroe County) each have an active local party, a financial edge and strong support from the departing Democratic incumbents. MDP will likely steer resources towards these two districts.
Of the five Republican held swing seats, all are open seats. Of these, Districts 30 (Sterling Heights), 97 (Clare, Gladwin, and Arenac Counties), and 99 (Isabella and Midland Counties) all look like potential Democratic pickups opportunities in November. Each Democratic candidate has a significant financial edge over their Republican opponent. Districts 71 (Eaton County) and 85 (Shiawassee County) are also potential opportunities, although the Republican candidates might be aided by a better political climate this fall.
With two months to go, I expect the Democrats to lose between four and seven seats in the Michigan State House. While the political environment is not favorable for the Democratic Party this cycle, the Michigan Democratic House caucus has a two to one financial advantage over the Republican House caucus (As of July 20, 2010 the Democratic House Caucus had $850,469 versus the Republican's $394,231) that will be used to effect over the next few weeks. While a Republican gain might be larger, I suspect the state party will choose instead to focus money on regaining control over the Michigan Supreme Court and retaining the State Senate. For folks interested where these house districts are located, please see the maps below
http://i303.photobucket.com/albums/nn153/pbratt/WayneHouse.jpg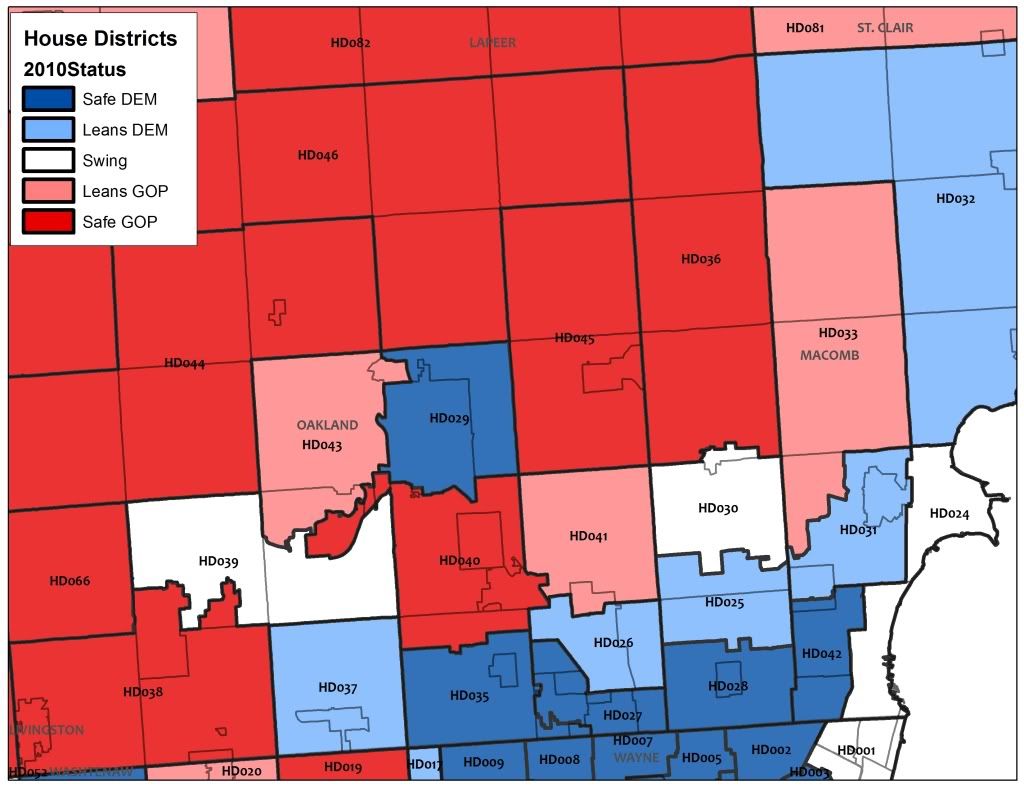 http://i303.photobucket.com/albums/nn153/pbratt/MacombOaklandHouse.jpg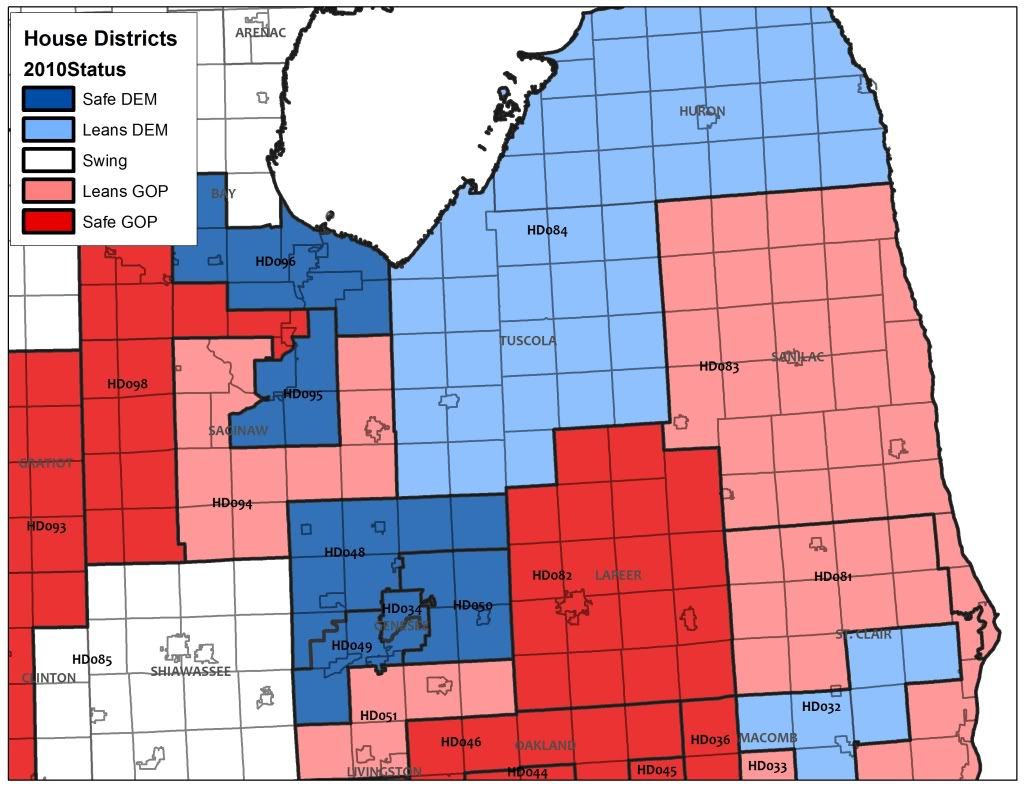 http://i303.photobucket.com/albums/nn153/pbratt/ThumbHouse.jpg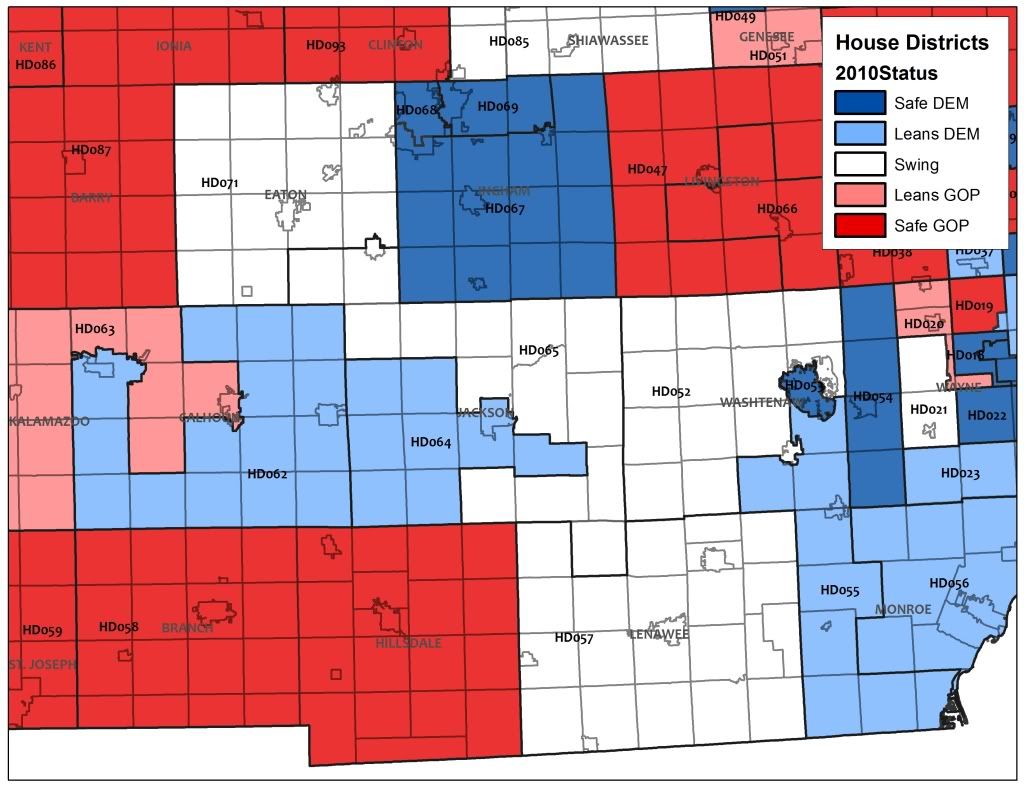 http://i303.photobucket.com/albums/nn153/pbratt/SouthMIHouse.jpg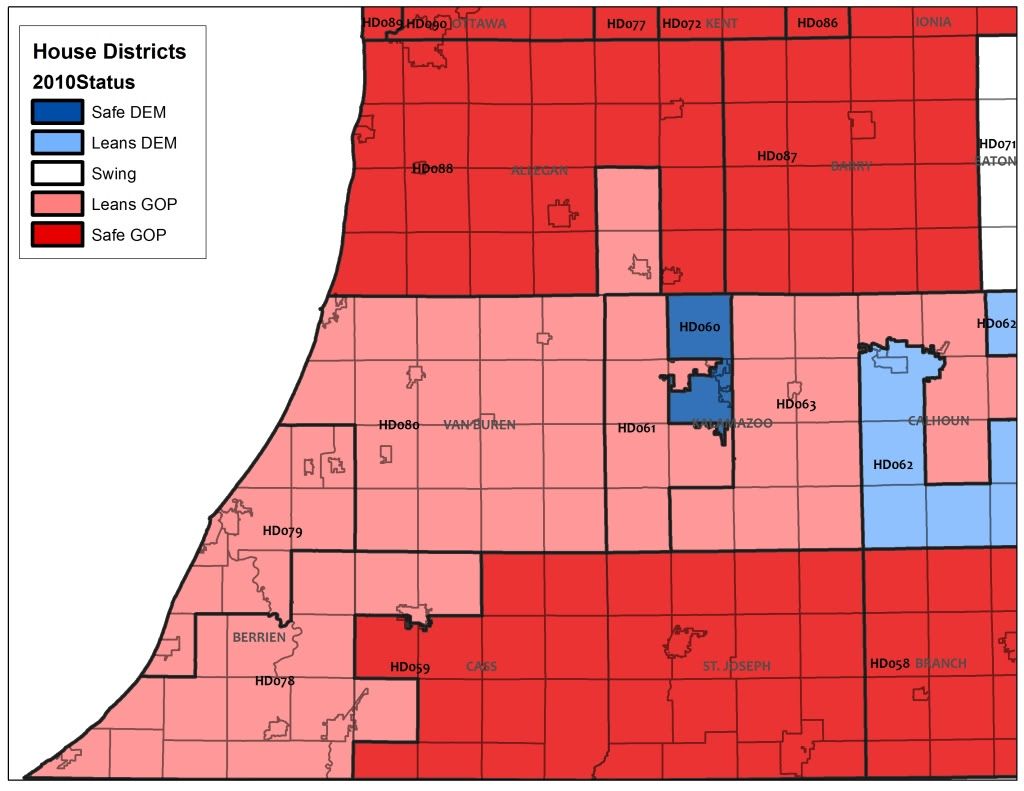 http://i303.photobucket.com/albums/nn153/pbratt/SWMIHouse.jpg
http://i303.photobucket.com/albums/nn153/pbratt/WMHouse.jpg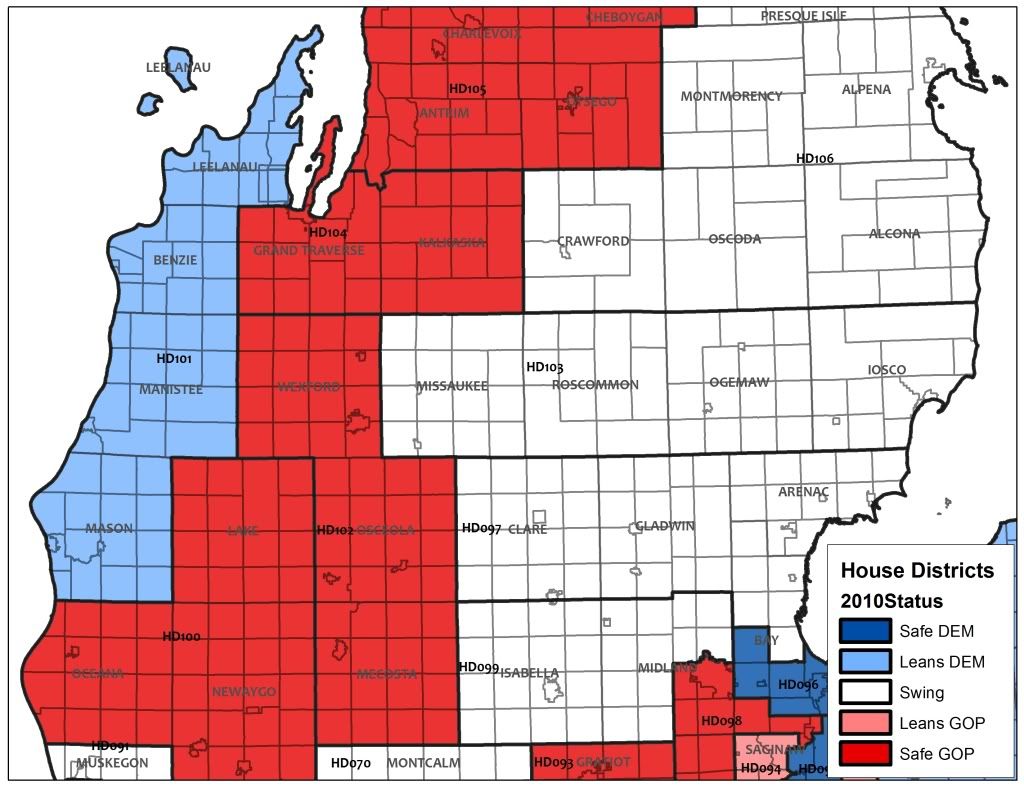 http://i303.photobucket.com/albums/nn153/pbratt/LPHouse.jpg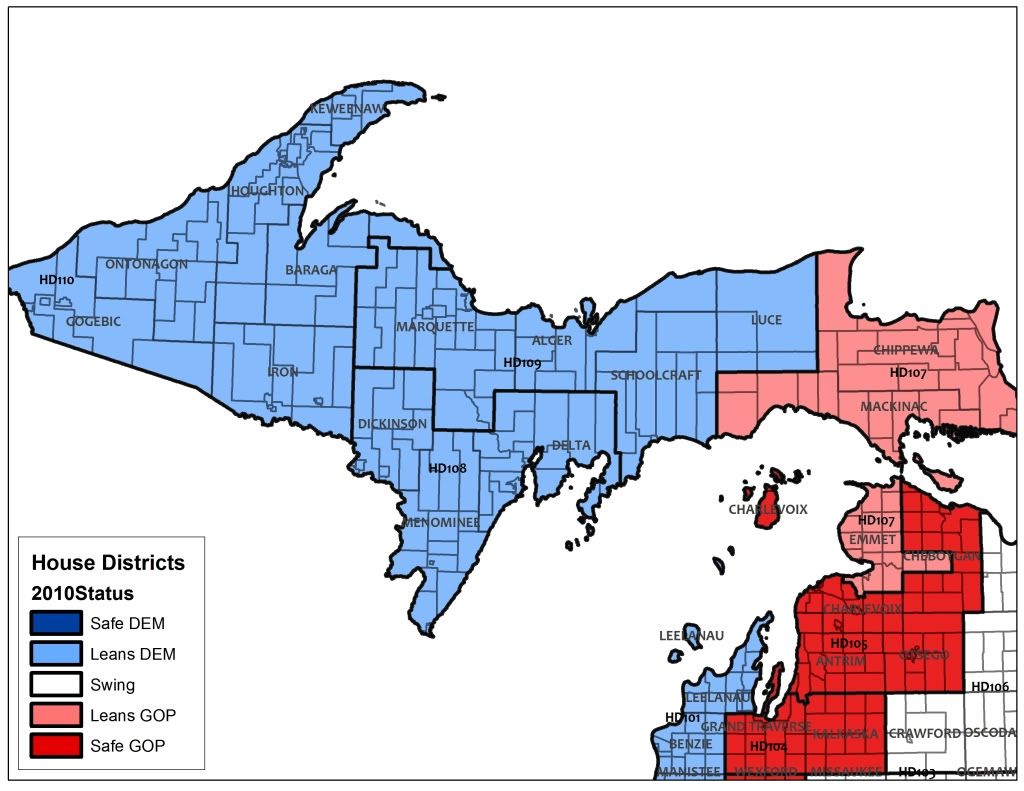 http://i303.photobucket.com/albums/nn153/pbratt/UPHouse.jpg
State Senate
The financial situation in the Michigan State Senate is a 180 degree reversal of the State House. The Republican Senate caucus has a three to one money advantage, with $1,584,502 cash on hand versus the Democratic Senate caucus total of $505,007 (as of July 20). This deep financial advantage, along with the unfavorable political environment will make it difficult, but not impossible, for the Democrats to take control of the State Senate.
Of the
38 seats
, 30 are open in the 2010 cycle. While the turnover in senators will be significant, the partisan makeup of the chamber will not be significantly altered. Eleven seats are safe in the hands of the Democratic Party, while the Republicans will assuredly return eight senators in January 2011. Of the eleven Democrats running for safe seats, nine have Republicans who have filed financial waivers, while Republicans Michael Ennis (District 9) and Kyle Haubrich (District 23) have raised insignificant amounts of funds, ensuring that Democrats Steve Bieda and Gretchen Whitmer will be reelected in November. Of the eight safe Republicans, two are incumbents (Mike Nofs in District 19 and Mark Jansen in District 28) and their opponents filed financial waivers. Democratic candidates also filed financial waivers in the 24th and 30th Districts, while none of the remaining four Democratic candidates have raised more than $5,000 against well-financed opponents.
10 seats are leaning Republican for a number of reasons. Republicans Jack Brandenburg (District 11-Macomb County) and Philip Pavlov (Lapeer and St. Clair Counties) face opponents who filed financial waivers, and Jim Marleau in the 12th District (Oakland County) and Mike Kowall in the 15th (northern Oakland) have significant financial advantages over Casandra Ulbrich and Pamela Jackson respectively. Incumbent Republican senators John Pappageorge (13th District-eastern Oakland County), Randy Richardville (17th District-Monroe and Washtenaw Counties), and Roger Kahn (32nd District-Saginaw County) have significant cash on hand advantages over their Democratic challengers. However, Aaron Bailey in the 13th and Debasish Mridha in the 32nd have raised significant funds that would allow them to make a play at these seats in a better political environment. A similar situation exists in the open 16th and 36th district seats, where popular Democrats Douglas Spade and Andy Neumann are running against Bruce Caswell and John Moolenaar. Neumann narrowly lost in 2002 in a bid for a senate seat, and it appears that Moolenaar has a significant financial advantage of more than $200,000 at the beginning of September. Democrats might consider making a play at the 16th District, where Douglas Spade will face Caswell, who provided a personal fortune for his attempt for higher office. Finally, in the 37th District, while Republican Howard Walker's campaign account was depleted after a bitter primary battle, Democrat Bob Carr hasn't caught on fire financially.
The four Democratic-leaning seats are a mixed bag for the defending party. Incumbent Glenn Anderson (6th District-Livonia and Westland) and Jeff Mayes (Bay County and the Thumb region) have significant cash on hand advantages, meaning they will avoid being targeted by the Republicans. However, in the 10th (Macomb County) and 38th (Upper Peninsula) Districts, two excellent candidates for each party (Paul Gieleghem versus Tory Rocca in the former and Michael Lahti and Tom Casperson in the latter) mean that there will be a contested race with significant funding from each party. While the Republican candidates are strong, the seats both have historic Democratic leanings, which will be crucial to retaining these seats in November.
The
five
remaining seats will decide control of the Senate. If the Republicans can hold two of their four seats, they will have a 20 to 18 edge in the chamber. The Democrats need to hold the 26th District (Genesee and Oakland Counties) and pick up three of the Republican seats. The problem for the Democrats is that their candidates in two of the five districts are in at a distinct financial disadvantage. In the 20th District Democrat Robert Jones has just over $10,000 on hand (and has loaned himself an equal amount), and is going up against Tonya Schuitmaker, who is personally wealthy and willing to spend significant sums to hold this Kalamazoo County seat, although she only has $6,000 on hand after an expensive primary. Democrat David LaGrand ($30,648 cash on hand) trails opponent David Hildenbrand ($134,352 cash on hand) by more than $100,000, and edge that the senate Democrats will have to try and overcome to contest this seat. Democratic candidates in the 7th (Kathleen Law with $21,577 cash on hand), 26th (Paula Zelenko with $23,041 cash on hand) and Mary Valentine ($49,231) are at rough financial parity with their Republican opponents Patrick Colbeck ($13,267), David Robertson ($10,648), and Geoff Hansen ($57,371).
Given the number of strong candidates in each party competing in some competitive districts, it seems that the parties will likely exchange some seats. However, given the Republican Senate caucus' strong financial edge, I suspect the Democratic gain will be limited to a one to two seat gain, keeping the Republicans in control of the upper chamber.
Politics is about candidates and their message competing in a political landscape strongly shaped by partisan boundaries. With two months to go, both parties will be racing to the finish line. So, enjoy the last few weeks of peace and quiet before the robocalls start, and enjoy some beautiful state senate district photos below.
http://i303.photobucket.com/albums/nn153/pbratt/WayneSenate.jpg
http://i303.photobucket.com/albums/nn153/pbratt/MacombOaklandSenate.jpg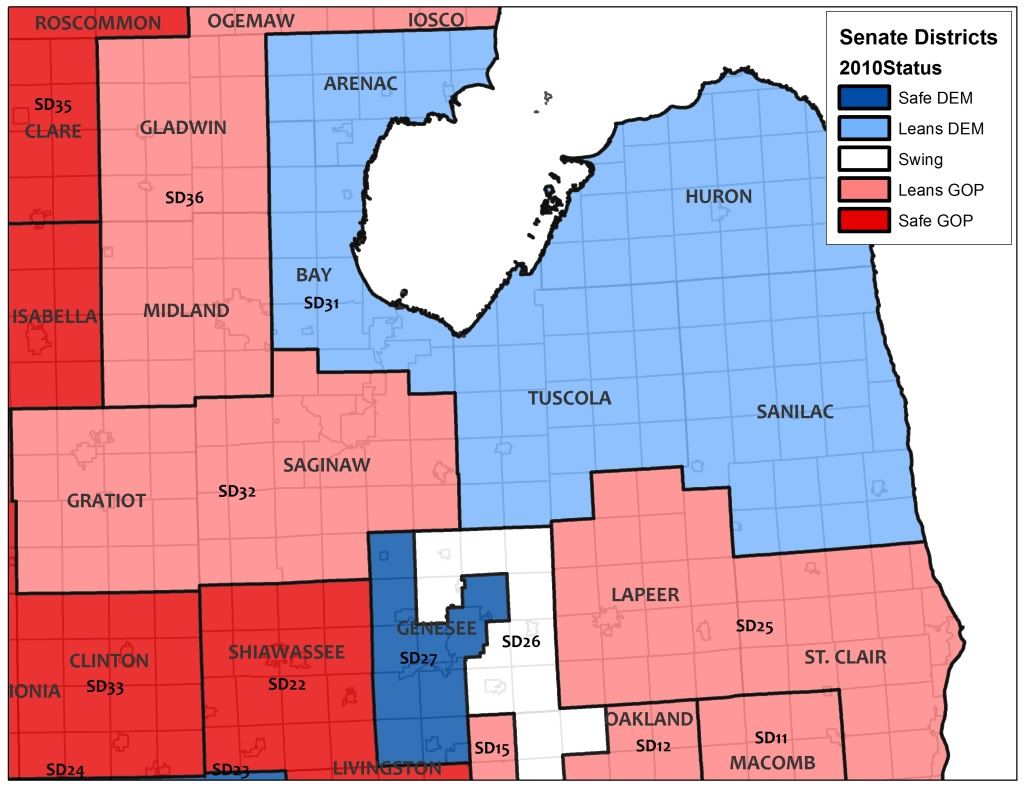 http://i303.photobucket.com/albums/nn153/pbratt/ThumbSenate.jpg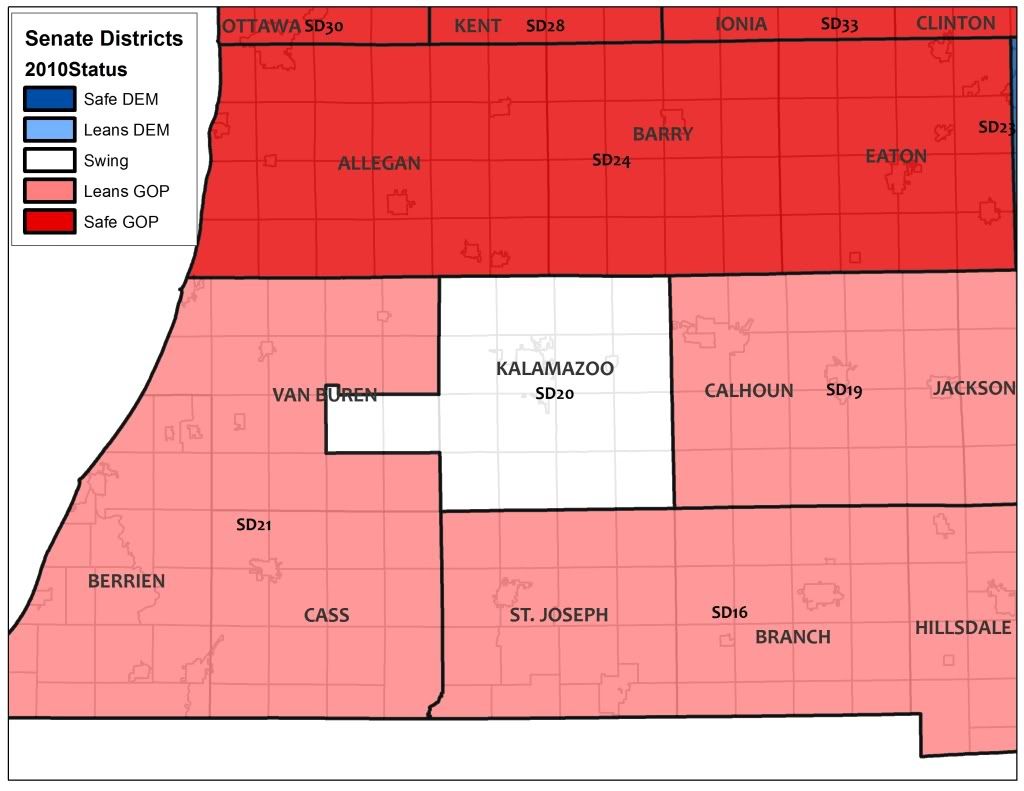 http://i303.photobucket.com/albums/nn153/pbratt/SWMISenate.jpg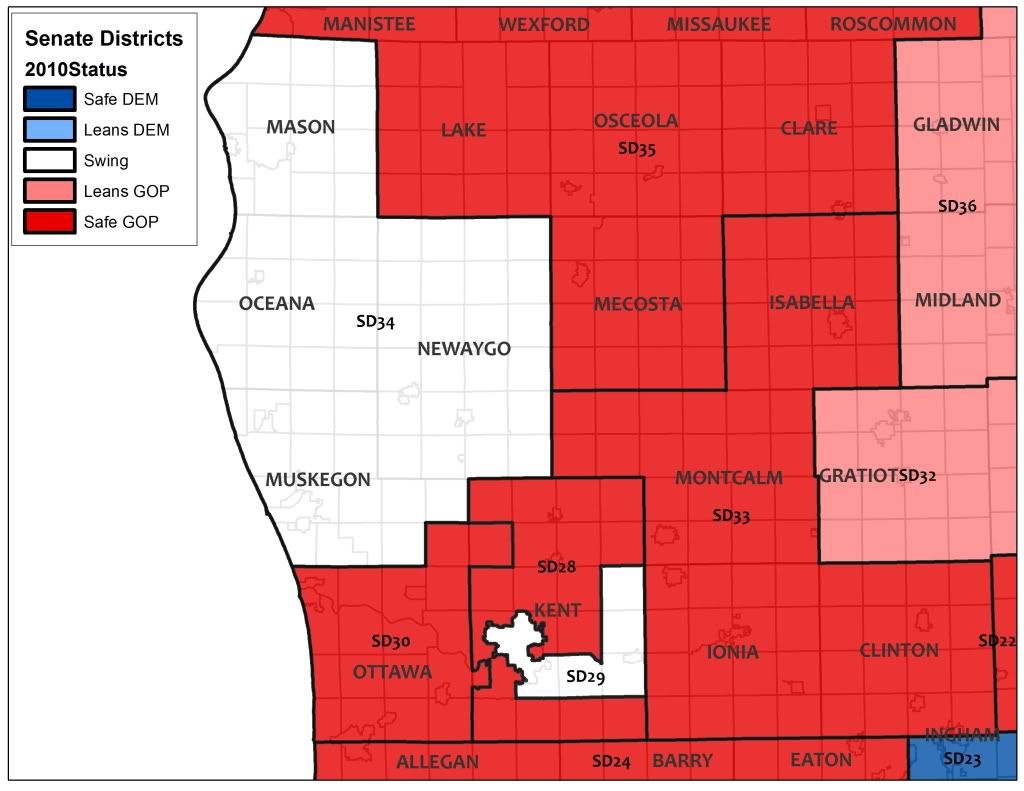 http://i303.photobucket.com/albums/nn153/pbratt/WMSenate.jpg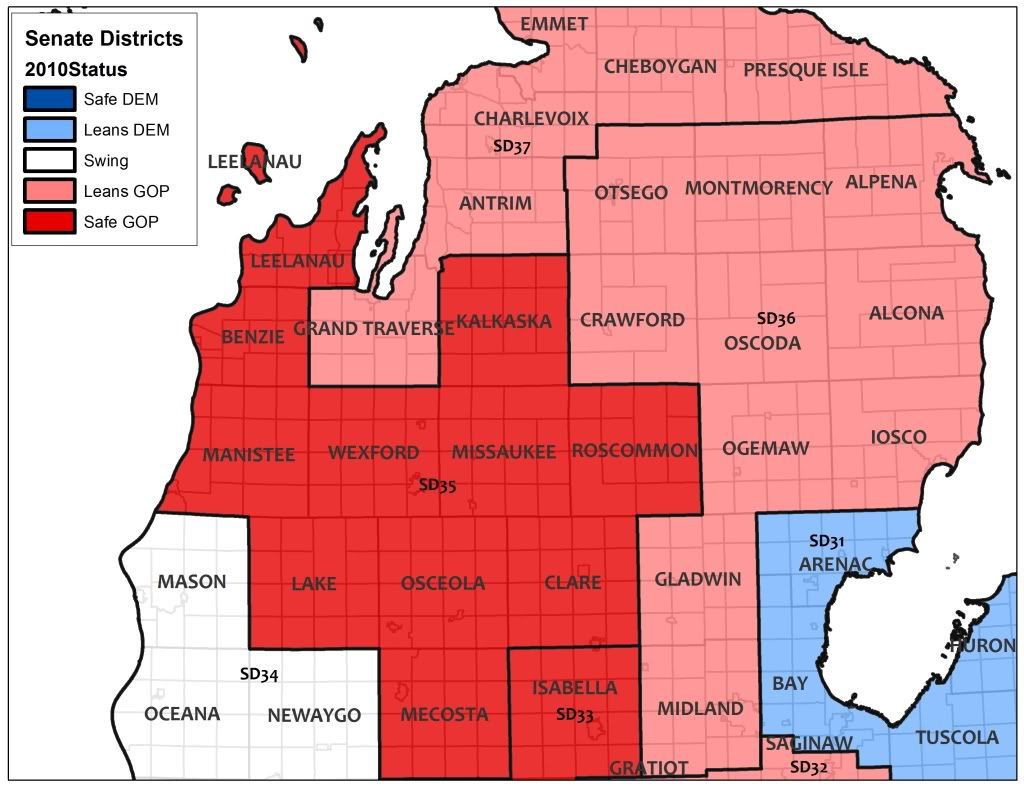 http://i303.photobucket.com/albums/nn153/pbratt/LPSeante.jpg
http://i303.photobucket.com/albums/nn153/pbratt/UPSenate.jpg